Hey, hey, hey!! It's my birthday week!!!! Actually, that's not too exciting since I have to wait another five days for it to get here. My husband always makes a big deal about celebrations, so I'm pretty anxious to see what he has up his sleeve.
We're taking it easy with meals this week. Some oldies, but goodies are back on the menu and there's another new pizza crust recipe that we're going to try, because we're determined to find a paleo crust recipe that we like. After living Italy for two years, I need to have pizza in my life.
Here's what we're cooking this week:
Sunday: Fajitas (steak, peppers, onions, and guacamole. Simple and delicious)
Monday: Pizza (topping mine with asparagus, an egg, and arugula. YUM!)
Tuesday: Asian chicken thighs, some sort of veggie, and cauliflower rice
Wednesday: Zuppa Toscana (subbing rutabaga for potato and coconut milk for half and half)
Thursday: Spaghetti Pie (heard good things about this recipe!)
Friday: BIRTHDAY SURPRISE!!!! (any guesses?!?)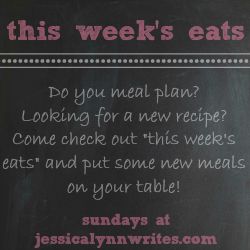 document.write(");
Happy cooking!