Last night I promised I'd post about Thanksgiving and my week in Georgia, so while my geeky boyfriend watches Star Trek, I'll get my type on.
I'm seriously shocked by how fast the time has flown by. I know it's cliche and all, but seriously; I can't believe that it's already 12:01 (est) on Saturday. I technically leave tomorrow and that makes me ridiculously sad.
Kenny and I spent the beginning of my time here shopping around and finding home decor to fill his house and make it a home. I think it's safe to say that he now has a workable and enjoyable kitchen. On another day we took a trip to Lowe's and picked out two shades of paint, one for the guest bedroom and the other for the guest bathroom. The next day we opened the cans and started covering the white walls with colorful paint.
Thanksgiving went off even better than expected. We woke up early on Thursday to start brining our turkey with a recipe Kenny found while watching the Food Network. The Good Eats Roast Turkey had to brine for 6 hours and then cook for another three(ish). While the bird was soaking up flavor, we cleaned the house and got to work on the other dishes we were providing: Kenny's homemade rolls (so. freaking. delicious! but I forgot to take a picture – just trust me about how good they are), my grandma's yummy green bean casserole (this is before it went in the oven, so just imagine the french onions all brown and crispy!):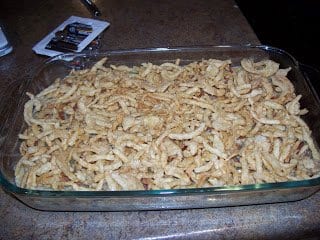 salad (manderan oranges, mushrooms, tomatoes, onions):
mashed potatoes, gravy (from a recipe out of a magazine), and Sandra Lee's Sweet Biscuit Wreath that I made…all…on my own (with Kenny rooting me on from the sidelines):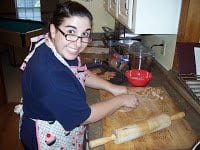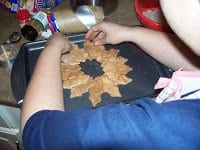 We invited the Harr's over for dinner (they brought an addicting pumpkin butter, stuffing, sweet potatoes, chocolate meringue pie – yummy, a sister, a father-in-law, and two ridiculously cute kids) and they arrived just as we were taking the last parts of the meal out of the oven. Truth be told, the turkey took about an hour to cook longer than we expected, but by the time that bird came out of the oven we knew it was worth it.


Not only was this one of the juiciest turkeys I've ever seen, but instead of the flavor overpowering the meat it added to the richness of the turkey. Unfortunately, I made some gravy that I didn't think was that great and I poured it all over my meat. But on the bright side, there is plenty of meat leftover.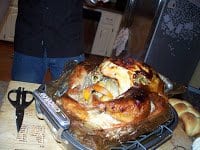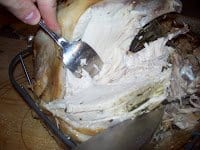 The whole meal was fantastic; I loved the company, the food, and even the cooking process and cleaning up after.
As surreal as it sounds, Kenny and I haven't fought or even argued this entire trip. Going back home is going to be hard. He'll be coming home for Christmas, but it's not the same. I'm planning on visiting again in February and I already can't wait. Tomorrow he and I are going to Callaway Gardens' Fantasy of Lights for our 2nd annual Thanksgiving weekend tradition (ha – we can now say it's an annual tradition!) and I can't wait.
Next up I'll have to post pictures of my new car…but that will come on a different day. Oh, and I hope you all like the new look of this blog. It's not a huge difference, but it's enough for me to notice and enjoy.