Well, this poll was somewhat of a flop because there was no clear result: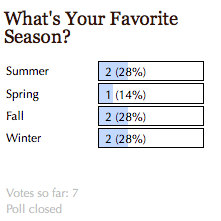 I guess the one clear thing is that my readers don't like Spring, and who can blame them? Now that March is here, the weather in New Mexico has definitely stormed in with wind, blizzard-like conditions and gloomy days.
Now for this week's poll….
Do you have a camera phone?
*Yes
*No