Fact: I love all things tiny, cute, and not overly sweet.Fact: Putting on my adorable
apron
doesn't make me a whiz in the kitchen.
But sometimes if I see something I REALLY like I'll be more inspired to stay motivated in the kitchen. Well, I think these little bites are cause to keep my drive alive. Seriously, how cute are they? And they actually seem pretty easy to create.
When a recipe begins with the word "easy," as in these Easy Cupcake Bites by Bakerella, it means there's actually a fairly good chance I can follow the recipe. AND, when that recipe has step-by-step photos to accompany the easy recipe (like here at The Pioneer Woman Cooks), it means my chances of screwing up decrease even more!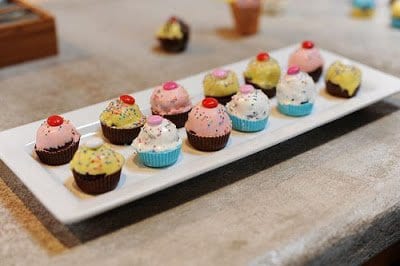 Now I'm not expecting my bite-sized cupcakes (cuppies?!) to ever turn out looking like the very first picture (shoot, I'll be happy if you can even tell they're supposed to look like "cupcakes") but I think these are too adorable to not attempt to make.
Before I bust out the apron, the next question is what flavor of cake mix should I buy?