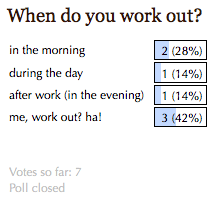 There wasn't a great turnout for this week's poll, because I'd like to think I have more than five people reading this! (One of those votes is from me and another, I think, is from my mom!) Either way it looks like I have some lazy people who like to read this. KIDDING! But other than that it looks like everyone works out throughout the day. I'm a morning worker-outer. Once I get home in the afternoon that it and I'm done for the day!
Now for the next poll! In honor of Easter this Sunday, I wanna know what holiday you like the best. And if it's not listed, feel free to share it in the comment section.
What's your favorite holiday?
New Years
Valentine's Day
Easter/Passover
Fourth of July
Halloween
Thanksgiving
Christmas/Hanukkah