I've never been good at playing practical jokes, so instead of foolin' you guys I'll treat you to a double post today, how's that sound?
This is was the quote welcoming me into the month of April this morning. Now, I get how it's supposed to be Spring related with the blade of grass reference and all, but I think it's a pretty lame quote. I'm sure I'm being to logical about it, but I really think it's stupid. What do you think? Does this inspire you? Because honestly, I'm thinking of putting up another quote in it's place so I don't have to stare at it for the next 30 days.
So I guess this could also be considered a triple post for today. I know, I know, I'm stretching it now! My mom came home with these lil fellas today. Now I'm not a fan of mice; it doesn't matter if it's Gus Gus from Cinderella or even a baby mice, but these are seriously adorable – and they taste even better than they look!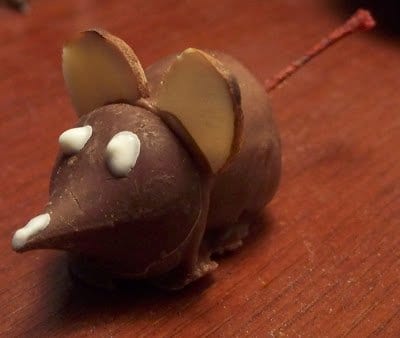 It's made out of a Hershey's Kiss, an almond an a chocolate-covered cherry. Apparently a woman at my mom's work makes them (and possibly other objects/animals?) an creates them often for weddings. She'll see the woman again on Friday and is going to get more info out of her.
If I could get these in any shape, object, or animal for the wedding, what would you suggest?