Before I get to posting the shoes I'll be dancing around in after the ceremony I have a very important question for you: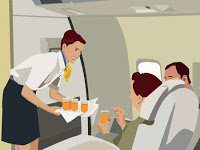 When you're on an airplane and the flight attendants start offering those free beverages, what's your drink of choice?
I slept through the drink service during my awesome Southwest flight this morning and it got me thinking about what people usually ask for.
My drink of choice used to be tomato juice, but for the past several flights I've been switching to sparkling water (or club soda, if you will), with a lime wedge.
Okay, your turn…Go!