I realized I never fully explained why I'm skipping over to the other side of the pond in just 18 days (WHOA! EIGHTEEN days?). A long, long, long time ago—four years ago to be exact—I studied abroad in Bournemouth, England, for a year and met some amazing girls. Well, one of the girls is getting married and she invited me to watch her say, "I do." I'm so anxious to see if there are any differences between an American wedding and one in Britain, and of course I'm excited to see my friends again!
I hate that I don't have many photos of my time out there (I was there to study, people!), but here are a couple I scrounged up: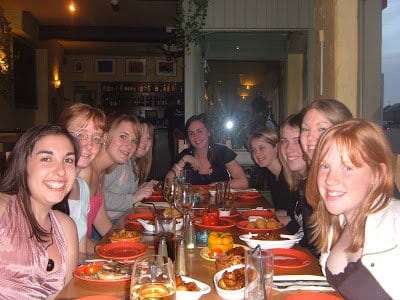 Katie, the bride-to-be, is the closest one on the right!
Me, Katie, and Lucy, who got married last year!
My plan is to fly into London:


And then head down to Bournemouth, where I'll stay with some friends for a few days (don't be fooled by the blue sky and clear water, these were shot on the one clear day I was out there; it was gloomy the majority of my time out there):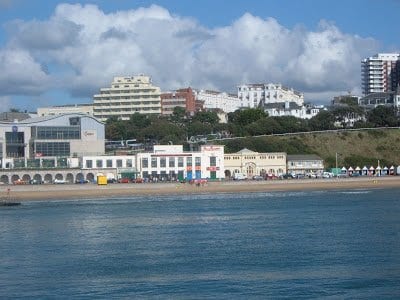 Then I'm going up north to Wales for the wedding: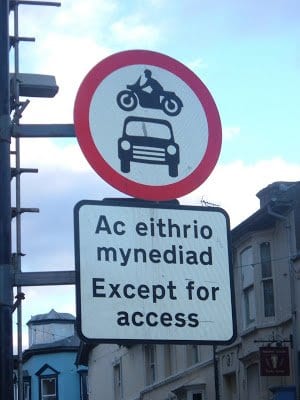 And then everything else is up in the air. I'll most likely spend several days in London at a hostel my brother and I stayed at before, and I'll break up my time in the city by going to Stratford-Upon-Avon to see Shakespeare's hometown and hopefully see a show. The problem is that the B&B I wanted to stay at just booked for the days I wanted to visit, so I need to confirm that before I can get the rest of the trip settled.
I'm really excited about going back to the United Kingdom, because I had a fantastic time out there. But the part that bums me out is how much it's going to cost, so here are my ideas to cut back on my spending:
*Staying at hostels
*Getting a "child" pass for the Tube in London
*Picking the earliest – and cheapest – train/bus tickets despite how early they leave
*Taking food with me: granola bars, microwavable Healthy Choice pasta meals, Easy Mac, etc.
*If I decide to see a show I'll get it from the 1/2 off places
*Taking advantage of all the free museums in England
If you have any other ideas I'm all ears! I'm also going to attempt to pack everything for 15 days (including a dress and heels for the wedding) in just a carry-on sized suitcase and possibly a duffel bag; I want something I can easily travel around with that won't be too big or too heavy.
So that, in a nutshell, is what I'll be up to in less than three weeks. And if you have any money-saving tips, let me know!
Oh! And a P.S., what do you think about this dress for the wedding with a jacket/blazer over it? Is it too informal? I wanted something that I would definitely wear again and that would travel well, but now I'm second guessing my purchase.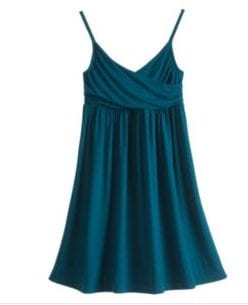 source