It's been awhile since my last post, which is a good thing when you're on vacation! It turns out that I'm absolutely going to need a vacation from this vacation, so it's a durn good thing I'm going to Red River, NM three days after I get back. Ah….mountain air 🙂
Anyway, I'm sure you want to know more about London and less about my next trip! Yesterday I think I walked easily over at least four miles and thankfully there was barely a cloud in the sky.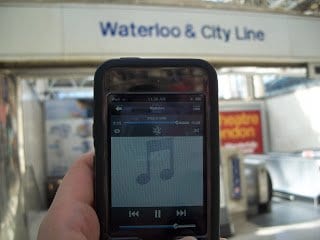 I started out at Waterloo (I even listened to the Abba song while I went through Waterloo!) and when I came out I was pretty much in front of the London Eye – a giant carousal-type ride. I've been on it before, so I decided not to spend the money for it again.
Instead, I walked…and walked, and walked, and then walked some more. I tried to get this map the closest I could to where I went, but it wasn't working for me.
Basically, I walked along South Bank, which was right along the Thames River and led me from the London Eye to the Tate Modern Museum (they didn't allow photos inside, but just imagine weird things thrown together and then calling them "art"), through Bouroughs Market and City Hall, and then to the Tower Bridge and the Tower of London.
Here are some of my favorite pictures from along the river: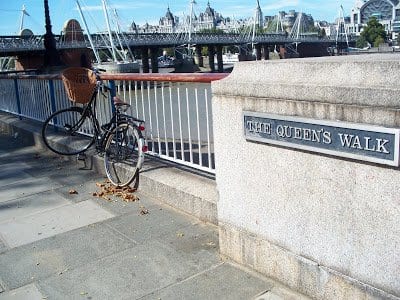 Tower Bridge, not to be confused by the London Bridge.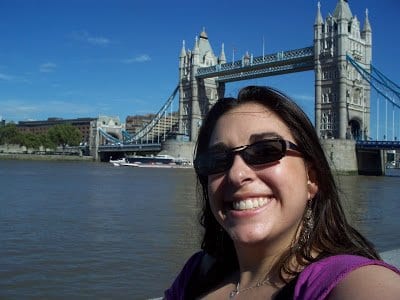 Don 't let the smile on my face fool you, by this time I was exhausted. I made it over the bridge and admired the Tower of London from afar. I could've gone in, but since I've "been there, done that" I moved my day along.
I took the tube from the Tower of London to Trafalger Square. I went into St. Martin in the Field's (a church that also has a cafe in the crypt!) for my grandma and then traipsed around that area for awhile. I started wondering around till I found Buckingham Palace and St. James' Park.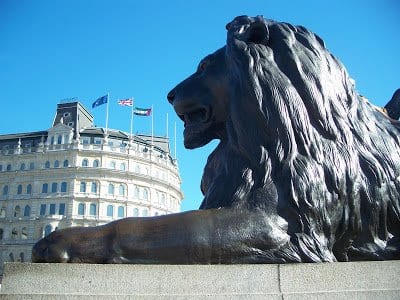 Hi Impact