Compared to the previous day, yesterday was extremely relaxing. I saw two shows, friends, and rode the tube like a local.
I started out the day with sort of a scavenger hunt. I knew there was a particular street in town that I saw on a map before I left home that I had to find. After a tube ride and walking for a bit, I found it:
My new last name!!!
Finding the street took a little longer than expected, so by the time I got back to Victoria station I had only about an hour and a half before the show started, so I grabbed some yummy lunch of pasta with a spicy "red chili", spinach, red peppers, and shrimp:
And then it was time for the show!
I read the book a couple years ago, which was unlike me, because it's not in the genre of books I read. But I was intrigued and kept at it. When I heard they were making a musical about it, I kind of laughed and said I would never see it. Why ruin a good book, ya know? Then I came out here and found a really fantastic price on a ticket, so I decided to check it out.
All I can say is, WOW! It was absolutely fantastic. The singing was incredible, the costumes were classic, the set was creatively designed and all together it was just really, really, great.
Actually, if I could come up with one word to describe it, I'd have to become a New Englander and go with, wicked.
urbandictionary.com
Oh! And the best part was that my seats got upgraded! I was literally supposed to sit in the. very. last. row. at. the. very. very. top. BUT!! Some guy was walking around upgrading people, so I got to move about 20 rows down, just low enough so that my nose didn't bleed 🙂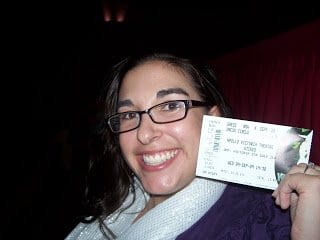 Since I saw a matinee I didn't have much time in between the show and when I was supposed to meet up with Kat and Dave for the next show I was seeing. We grabbed some dinner at….wait for it….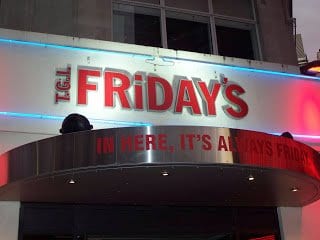 Then we were off to
The Comedy Store
. On every Wednesday and Sunday night there's an improve team called The Comedy Players who perform, you guessed it, improve. Do you remember the show, "
Whose Line is it Anyway?
" It was basically exactly like that, only it was live and you get to sit in the audience and give them suggestions.
I was afraid of two things before I watched it: 1) I wouldn't understand the British humor and wouldn't think it was funny, and 2) They would be crude and make "dirty" things funny. Luckily those were silly fears, because not only did I understand all that they were talking about, but if I didn't quite get it, they'd move right along to something else. And if something was going in the direction of being dirty they quickly changed it around. If you're ever in London I HIGHLY recommend you go check out The Comedy Store.
Me and Kat! (Kat came out to visit me in the US, so it was great to see her again!)
Kat and her boyfriend Dave
So I got back to Phil and Caroline's last night (after Phil so graciously met me at the bus stop so I didn't have to walk back alone in the dark!) and I passed out. I was so tired, and it was really nice to have a safe place to lay my head at night.
Well I woke up this morning and look what Caroline had made for me yesterday:

Those, my friends, are homemade scones. I think I died and went to heaven. They're unbelievably delicious and I need to get the recipe from her. She remembered I was telling her I really wanted a scone when I went to St. Martin in the Field's, but that I got apple crumble instead. So she made these for me! Here's one that I dolled up with cream and jam. It's heaven I tell you, heaven.
Okay, enough story telling! I have places to go and things to see 🙂
(I started a photo gallery of pictures I'm taking from this trip. You can see those here: United Kingdom 09 and I'll update that gallery as I can. *New photos start on page 15*)