Thank you to everyone who left me a comment on my last post. I read them all again just before I left for my workshop on the first day and it helped build my confidence. Gracias to all of you!
I'm coming home this afternoon, but couldn't resist sharing how my two-day workshop went. It was beyond fantastic and I can't wait to start implementing some of the things I've learned into my writing and life. My plan is to sharpen my "voice" as a writer (which is a silly way of saying I want to hone in on my own style of writing), and I'm going to use this blog as my workspace for the time being. The days were absolutely packed with information by some of the most influential people in magazines today and I'm still blown away and humbled that I was *thisclose* to all of them.
With eight hours left before I leave for the airport I'm bundling up in my scarf, hat, coat, and umbrella and I'm going to trudge my way through the rain to Times Square. When I get there, the plan is to find the Good Morning America set and stand outside the window, hoping to catch a glimpse of the two stars slated to be on the show: Mister McDreamy and the adorable Ms. Witherspoon.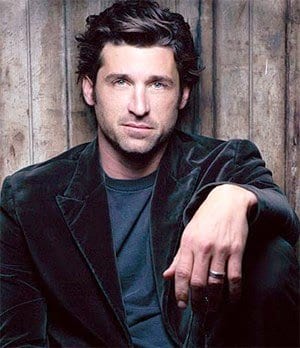 I haven't been able to take too many photos, seeing that I've been cooped up inside for the past two days, but I do have some picture from this trip that I'll hopefully get up online tomorrow.
In the mean time I'll leave you with the two reasons why I'm immediately hitting the gym when I get home. I'm sure I shouldn't be sharing this, but I hear admitting your problems is the first step to recovery. Here goes nothing:I've had pizza and cupcakes every day that I've been here, and I can't get enough of them. I don't know if it's because I'm in this "vacation" mode, or if things really do taste better here in New York City, but the pizza from Abitino's Pizza and the cupcakes (oh yes, I've had multiple – SHAME ON ME!) from Magnolia Bakery are seriously the best I've ever had.
Seriously, you're lucky that I stopped when I did to take a picture of it, because I pretty much devoured that entire slice. And see that big ol' grease spot there next to it on the right? Oh yeah, that's what made my mouth happy.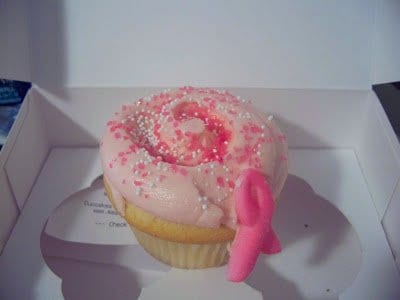 This sweet-looking Breast Cancer Awareness cupcake had that just-out-of-the-oven taste, was beyond aesthetically pleasing, and was simply delicious, not to mention that a percentage of what I paid goes to cancer research. I should mention that their Red Velvet cupcake tastes like heaven; it tastes so good that I couldn't find my camera fast enough to take a picture.
More fun NYC tales and (hopefully!) pictures of movie stars to come tomorrow. Stay tuned!