Road Trip Fest: From NM to GA
I wouldn't say that I'm a moving expert, but I've had my share of (mini) moves. But the difference between stuffing my then Grand Am with as much as it would hold and packing up the past 25 years of my life is that I needed to trade in my car for a moving truck.
This is what my room looked like in the midst of my packing…

Yeah…it was kind of a mess…


But then! Somehow there was a light at the end of the tunnel and it turns out that this is what my room looks like when it's completely clean: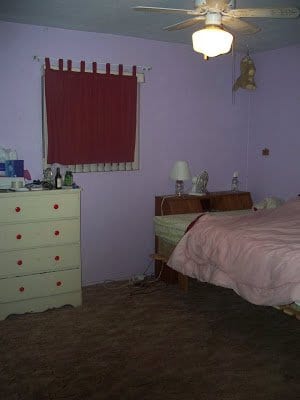 (The stuff on the dresser are things I'll need for the wedding or when I go back in December)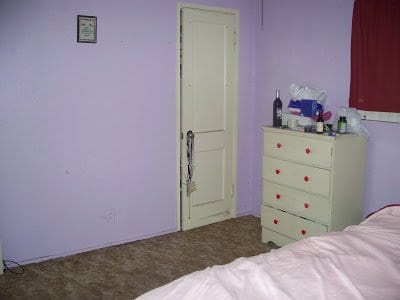 So where did all of my stuff go? It got loaded into a Penske truck that looked like this: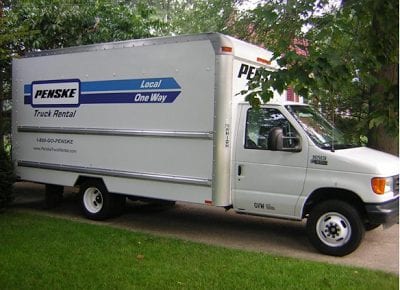 I told myself about 100 times to take a picture of our particular truck and of the stuff inside. My brother did a great job loading it all and then Kenny unloaded it all here in Georgia. But with all that was going on I never took that picture. Oops!
Last Thursday we left Albuquerque before the sun rose. I made sure I had my Dunkin' Donuts coffee and we hit the road. My parents drove the truck and I took the lead in my car. Our goal was to make it to Oklahoma City around dinner time, and we made it, but God decided to dump pools of rain on us just before we got to OKC.
I've never been terrified about driving, but that night I couldn't see a car five feet in front of me; my hands were literally shaking from grasping the steering wheel so hard. Luckily we all made it to our hotel and dodged more rain as we walked to the Golden Correll for dinner. (The first picture is of a funny looking truck—it looks like it has ginormous ears! And the second is our first truck stop.)
(Everything's bigger in Texas)
That night I stayed up late, because Kenny was flying into OKC to meet us there. His plane was supposed to land just before midnight, but it didn't get in till after 1 am. After just a few hours (if that) of sleep, we woke up and hit the road. Our next stop was Memphis.
On our way to Memphis we stopped for a quick lunch at Cracker Barrel: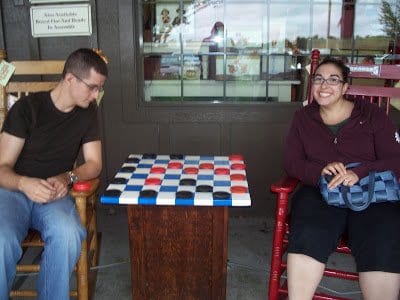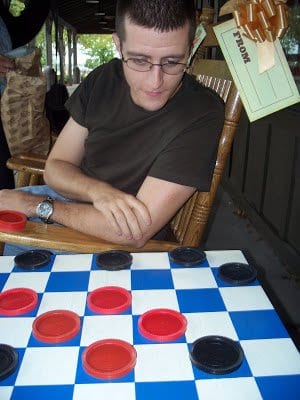 We made it to Memphis with no weather problems this time. After checking in to our hotel we made our way out for some yummy BBQ.
I had eaten at Neely's BBQ when I was in Memphis before and remembered how much I liked it, so that's where we went for dinner. I should preface this by saying that I'm not a fan of barbecue…there's just something about it that I very rarely like.
Since I was in Memphis I didn't want to just get a salad or chicken strips or something generic like that. Instead, I got their BBQ Spaghetti. It's basically noodles, spaghetti sauce, and barbecue sauce and beef mixed in. It's sooooooo good!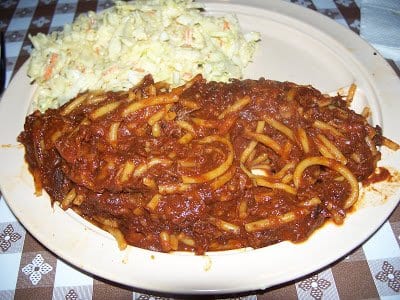 This was Kenny's plate:
And my dad's meal:
After being stuffed with good grub we went to go see Graceland. Since it was dark, all we did was drive past the mansion, but we'll go back again sometime! (I've been there before, but my parents and Kenny haven't.)
We got back to the hotel and fell asleep fast. On Saturday we woke up early and made our way to Georgia! Before we could head to Warner Robins we made a pit stop in Atlanta to meet up with my friend Mike. We've been friends for more than 10 years and he just moved to Atlanta for an art program; he asked us to bring a few things from home for him, so we happily obliged. We got back on the road and made it to my new home less than two hours later.
All together we spent 1,555 miles on the road and Kenny and I passed the time by scoping out license plates from other states! Did we see your state? Here's the rundown of the plates and states we saw:
California
Indiana
Oregon
Texas
Arkansas
Utah
Michigan
Arizona
Georgia
Missouri
Iowa
New Mexico
Nevada
New York
Ontario
North Carolina
Mississippi
Massachusetts
Kentucky
Louisiana
Colorado
Michigan
Rhode Island
Kansas
Washington
Alabama
Tennessee
Delaware
South Carolina
Virginia
Ohio
Florida
New Jersey
Hawaii
My parents stayed out here until Tuesday morning, but while they were here they got to see my house and a few parts of Georgia. We went to the Museum of Aviation: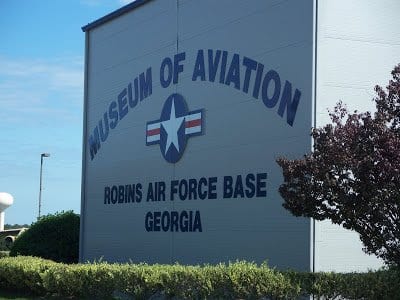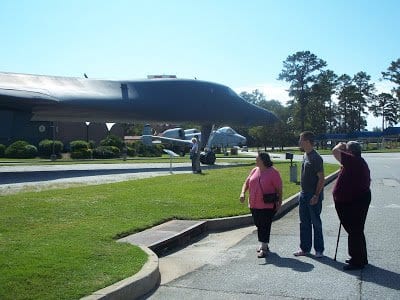 They got to see a mock-up of where Kenny works: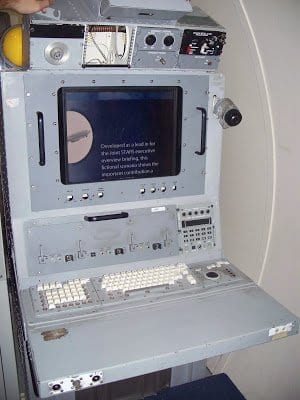 Of course, a trip to Georgia wouldn't be complete without peaches! We went to Lane Southern Orchards and my parents picked up some peachy souvenirs.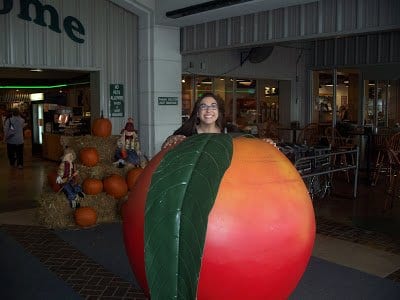 And a trip to the south wouldn't be complete without..dun dun dun…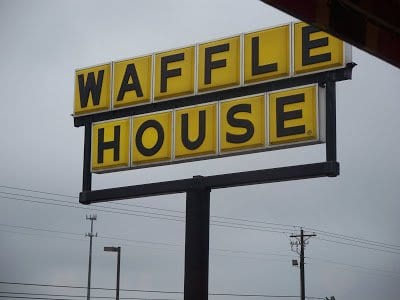 And that, dear readers, is my very brief moving adventure!
Right now I feel a tiny bit displaced. Usually when I come out here I'm always on vacation visiting Kenny. But now I live here—LIVE here—and it may take some getting used to. Most of my boxes are unpacked and my office is almost set up, so I'm sure I'll get the hang of this sooner or later, but in the mean time I'm still in vacation mode (e.g. today I've watched Ellen, two episodes of Overhaulin'-I couldn't figure out how to work the TV at that point—, two episodes of Everybody Loves Raymond, and I'm on my second episode of The Locator).
My plan, in the next few days is to get my act together and start working on a couple projects I have (finishing my office and working on some magazine work I'm on deadline for). I also just re-signed up for Weight Watchers this morning, and I'm going to start going to a local gym here very soon. Other than that, life is good and I'm love seeing Kenny walk through the doors after work each day and saying, "Honey, I'm home!" Love it.
Stay tuned for pictures of my new house!
***If you haven't already, read this post and then make your vote on the right hand side. Do you put utensils in the dishwasher handles up or handles down?!***