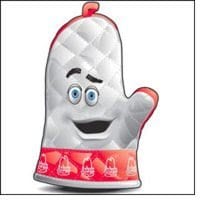 As it turns out, I've only been living out here in Georgia for a little more than a month and a half and I somehow have burned myself on our oven not once, not twice, but…sigh…three times.
I have a long scar on my forearm now, and two burns on my fingers—on my ring and pointer fingers.
The only thing I have to blame, because I don't want to blame myself, are our oven mitts. When I put them on and start pulling whatever is in the oven out, I can feel the heat start to filter through the mitt and my fingers get hot. My brain automatically yells at me to drop whatever I'm holding (because my hand is hot), but when I drop it I end up burning my fingers and/or arm on the pan I was holding.
I need your help.
I need a good oven mitt to put on our registry and have no idea where to turn. The pair we have now are by Williams Sonoma, and I'm guessing they were pretty good when Kenny got them, and that they're just old.
Can you help me out and let me know what your favorite brand is? I'd really like to stop the burning as soon as possible!