One of the disadvantages to having a fairly large yard and living practically next to a forest is that when fall decides to roll around, the leaves float and land on our driveway and cover our grass.
Tired of not being able to differentiate between the grass and our driveway, because they were both covered in a pretty equal amount of pine needles and leaves, we decided today would be the day we cleaned everything up.
Well, Kenny had an even better idea: he wanted me to rake the yard and sweep up the driveway. Great.
So I first raked the yard (sorry, no pictures of that), and then I grabbed our little push broom and swept the driveway. I took some before and after pictures, because I needed some positive reinforcement that I actually did something good.
Before (from the street looking towards the house):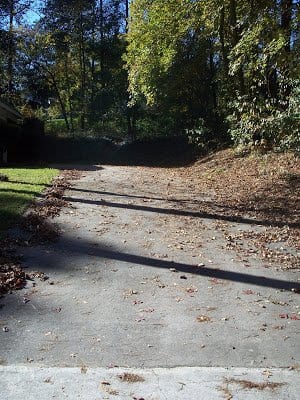 After:
Before (from the top of the driveway looking towards the street):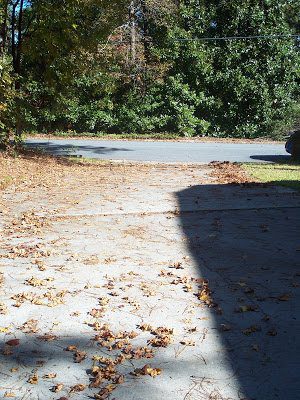 After:
Woohoo! Go me 🙂
While I was busy making the front of the house look pretty, Kenny was inside cleaning the kitchen from top to bottom. After the kitchen was clean we took to straightening up the rest of the house, because it was in a pretty sorry state. Now, a couple hours later, it's clean of debris and umm…livable again. I just LOVE our house!
I took some photos of the house (inside and out) and I'll post them on Monday so you guys can see the place in Georgia. My plan for later tonight is to hopefully get my office completely set up so I can show you pictures of my awesome space, too.
Hopefully you're all having a great weekend 🙂