I know I haven't talked about my dress much—if at all—on here, and that's because I know Kenny lurks around occasionally, and the dress is the one part of this wedding I want to surprise him with.
I was going to keep this next thing a secret from him, but I was too excited about my plans for the veil that I broke down and spilled the beans.
First, a little back story.
My mom got married in 1980 and promptly after her wedding she folded her gown, placed it in a box, taped it shut, and stashed it away in a closet. It's been sitting there, untouched, for 29 years. When I was younger I remember that box being like an untouchable Christmas gift; I always wanted to peek inside, but was told the box was off limits till I was married.
The morning I got engaged, I called my parents to tell them the good news, and I asked my mom if she could bring down the box when I got home. When I get home the next day, we opened the box, not sure of what we'd find. Would the dress be yellow? Maybe it'd be brown? We had no idea, but as we pulled it out of the box we were pretty surprised that the only part of the gown that "turned" was the lace, which was now a shade of yellowish-brown.
While we were holding it up, laughing at the silly late 70s, early 80s style of dress, she asked if I wanted to try it on. Um….YES!!! My mom was much smaller than I am when she got married, so we didn't zip it up all the way, but here I am in her dress (Kenny, I'm letting you see this and only this picture of me in a dress, because it looks absolutely nothing like the one I bought!).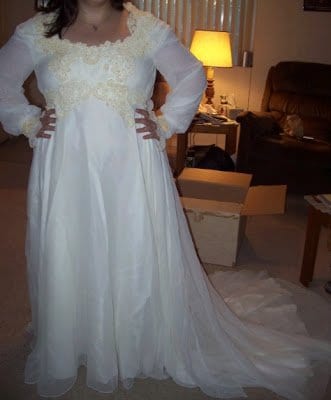 Check out those puffy long sleeves! If the dress fit properly, you'd see that it has a slightly high color that goes up to the sides of your neck. Thirty years ago, this dress was definitely in style and looked gorgeous on my mom! (I'll have to post a photo of my mom and dad's wedding picture when I get home.)
While my mom never once asked if I would wear her gown (and after I tried it on, it was obvious I couldn't walk down the aisle wearing it), I still wanted the dress to be part of my wedding.
After I took it off, we started thinking of the possibilities. That's when I noticed her train:

That part of the dress was still a white/ivory color. Hmmm…could it be that part of her train may work as my veil? Only time will tell. I don't know what type of material that is, mostly because I just don't know material, but it looks like the same type of material used for veils.
This Friday I'm going to my very first fitting in my very own two-sizes-too-small dress (PLEASE pray it'll fit!!!), and my mom and I are taking her gown with me to see if the colors will match, or at least see if they'll mesh well enough. If it does work out, then I have to figure out a way to make it into a veil. Wish me luck!
Did you use your mom's gown in your wedding?