I interrupt the Invite Only* series to show you something I stumbled upon last night. With four days left till our RSVP deadline, this gave me more than a chuckle: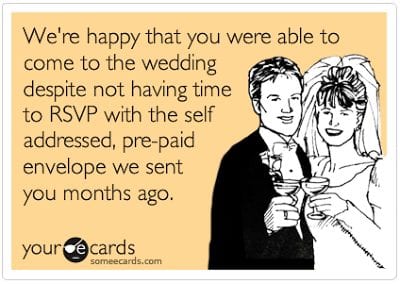 Ha! It still makes me giggle, mostly because it's true. We're still waiting on around 60 people to tell us if they're coming or not. So here's hoping we get the majority of the cards back sooner rather than later, because making phone calls to family and friends to see if they plan on attending the coolest wedding ever may be a little on the awkward side.
*I'll post pictures of the invitations tomorrow, because someone (Sigh. Okay, it was me.) took some really fuzzy photos of the invites, so someone (me again) has to retake them today.