The morning of my wedding I woke up next to my best friend. No, Kenny didn't spend the night, but my maid-of-honor did. We talked about girly things and the future ahead of us while we indulged ourselves in the extremely comfortable king bed we were relaxing on.
My mom showed up to the hotel with my gown and a few other things a couple hours later. She also brought me my favorite comfort food for lunch, but before diving into the food—it was still only around 9 am, after all—I cracked open my fortune.
At this point you may be asking yourself why I had a Chinese fortune cookie the morning of my wedding. Well, that's because I have a little love affair with Panda Express. Yup. For some reason their "Panda Bowl" (filled with fried rice and their string bean chicken) is my comfort food. When my tummy is nervous, anxious, and/or upset, Panda is what calms it down. So for lunch on my wedding day, I requested Panda.
My mom suggested I open my fortune cookie since there was a good chance it could get lost in the hustle and bustle of the day once lunch time came around. So I dug around in the bag till I found it, then I opened its package, cracked it open, and giggled at its contents: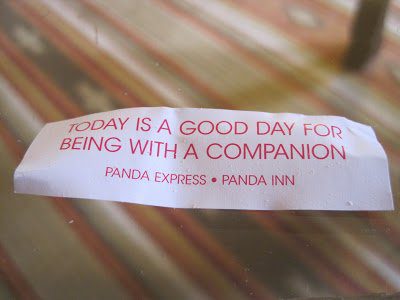 No kidding! There's no way anyone could have planned for something so perfect. Of all the fortunes in cookies out there in the world, that was possibly the best one I've ever—and will ever—receive. And it was a damn good way to start my day!