Mahi-Mahi with Mango Salsa
When we got back from our honeymoon, our fridge was pretty much empty, so a trip to Kroger was in order. We like to roughly plan out a menu for the week, so when I saw Mahi-Mahi on sale, we added it to our week's dinner list. Kenny suggested pairing the mild, white fish with a mango salsa, and since I've never tried anything like that before, I was game.

This entire meal was delicious and healthy! Not only was it good, but it was really easy and I'm excited to make it again. Mixing mango with the avocado was a heavenly combination, then we kicked it up a notch by adding the jalapeno. SO good! I adapted the recipe for the salsa from this site, but I'll post my version below.
But first, a funny story.
While Kenny was outside grilling the fish and playing with Bella, I went to get the mail, and went out through the back yard so I could see Kenny and the dog. After I got our mail I headed back inside through the backyard/kitchen door, but when I turned the handle it wouldn't budge. I looked at Kenny. Kenny looked back at me. We both knew what was going on, but neither wanted to admit it out loud: We locked ourselves out of the house.
For a good twenty minutes we tried opening windows and even attempted to pull up the garage door, but nothing worked. We contemplated going to a neighbor's house, but since we don't have any of our friends' numbers memorized (they have spare keys), calling someone wouldn't help. Finally, Kenny noticed that the laundry room window wasn't locked, so opened it up, squeezed his way through the window, and then opened up the door for me. We were just happy that we didn't have to break a window! And when all was said and done, we had a really nice meal to greet us when we came back inside.
Mahi Mahi with Mango Salsa and Crash Hot Potatoes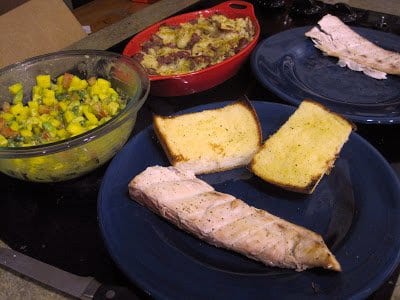 Ingredients
2 Mahi-Mahi fillets
1 tablespoon lemon juice
Salt, pepper to taste
1 cup avocado, cut in small chunks
1 cup mango, cut in small chunks
4 tablespoons chopped green onion
1/2 roma tomato
5 "deli" jalapenos diced (omit/tweak to taste)
2 tablespoon lemon juice
2 tablespoon extra-virgin olive oil
Pinch of Paprika
Pinch of salt and pepper
Directions:
In a small bowl, mix together salsa ingredients. Cover and leave in fridge for 30+ minutes, so the flavors can all mingle together.

Marinate fish with lemon juice; salt and pepper. Put fish back in fridge and start making Crash Hot Potatoes (we make these ALL the time, thanks PW, and use around 5-6 small red/new potatoes).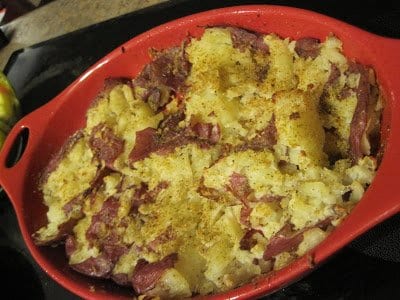 Around 10 minutes before you're ready to eat, grill fish for about four minutes per side (don't lock yourself out of the house at this point)
Top Mahi-Mahi with mango-avocado salsa.
Enjoy.