Pizza Week: Days 1 and 2
Pizza Week: Day 3
Last night we were going to make two chicken-related pizzas, a BBQ Chicken and Buffalo Chicken, but it turns out we are kind of low on chicken, so we made due with what we had and made a Kick Ass Buffalo Chicken Pizza. (I added the "kick ass" after how good it turned out!)
Day 4
Buffalo Chicken Pizza
Take your crust (we used PW's crust again) and drizzle some olive oil followed by a thin layer of hot sauce (we used Frank's Hot Sauce). We also had some Gorgonzola crumbles in the fridge, so we sprinkled some of that on as well—blue cheese would work great, too.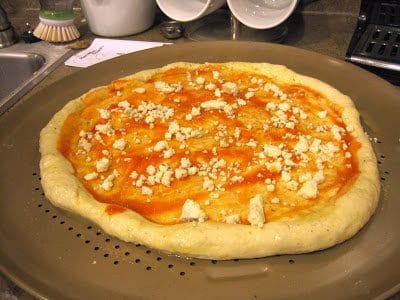 Then it was time for the chicken. I microwaved three uncooked, breaded strips and for four minutes just to thaw them a bit. Then I cut them into bite-sized pieces and tossed them in more hot sauce. I could have probably done with just two strips, because three of them covered the entire pizza. I also sliced up some green onions and sprinkled that on top and around the chicken.

Before popping it in the oven I put a thin layer of shredded mozzarella/provolone cheese all over the top.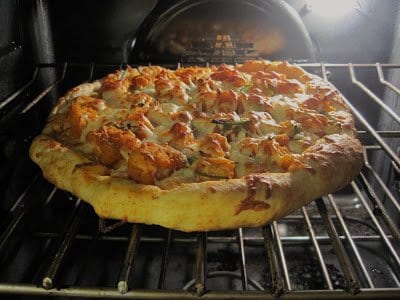 Viola – Buffalo Chicken Pizza!

Verdict: I was nervous about how big the chunks of chicken were, because even though I cut them into bite-sized pieces, they looked huge on the actual pizza, but it ended up being the perfect size! This pizza was deliciously spicy, flavorful, and really filling. It was lip-smacking good and we'll probably make this one again in the future, too.