Pizza Week: Days 1 and 2
Pizza Week: Day 3
Pizza Week: Day 4
Wow, are we really doing pizza every day for a week? I think it's starting to catch up with me, but we're trucking on. Last night was Day Five and since I like to have fish at least once a week, we decided to make it a seafood night.
(Before I dive in to the pizzas—ha ha, get it? "Dive" in? Because I'm about to talk about seafood?!—someone in the comments mentioned that the pizzas we're making look like heart attacks waiting to happen, and while that's something I would definitely say myself and I'm sure it was written in a sarcastic tone, I wanted to clarify something. In everything I make in the kitchen I make every effort to cut corners and save fat grams and shave calories. We use fat-free cheese, this fantastic "butter," turkey sausage and turkey pepperoni, etc.)
Day 5Shrimp Scampi Pizza
When I was younger I used to looooooooove shrimp scampi. That was the only thing I liked to eat, and I would make it like this: angel hair pasta, crushed tomatoes, garlicky shrimp, and shredded mozzarella cheese. That's it. It was so simple that even I could make it…and that's saying a lot.
Simplicity was the concept for this pizza. I drained a can of diced tomatoes (didn't have crushed on hand) and mixed them with some garlic and this awesome seasoning by Johnny's. And then I put it to the side.


Then I thawed some shrimp, cut them in half, and mixed them garlic powder and the awesome seasoning. And then I put it off to the side, too.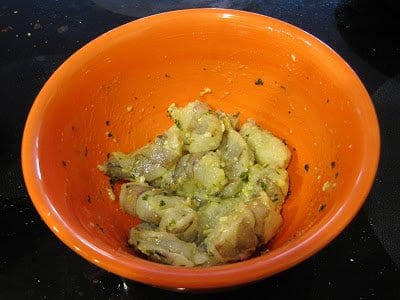 I drizzled some olive oil on the crust and spread the tomatoes on top.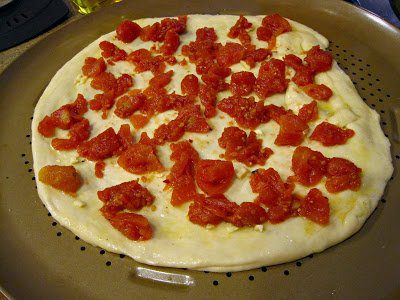 Then it was time for the shrimp (I used a single, four-ounce serving of shrimp), some fresh basil, and a thin layer of cheese.
Verdict: This. Was. OUTSTANDING. Oh man. It was just like eating a flavorful pasta, but on a pizza! So tasty that I really want to make this one again and I'm sad I don't have leftovers 🙁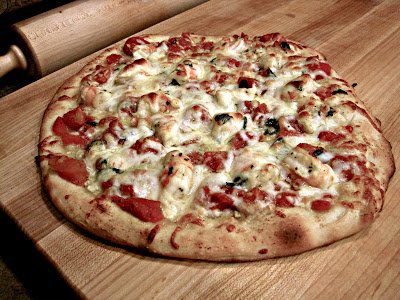 A note: We switched up the crust and reverted back to the Alton Brown recipe, only this time we followed the directions to a "T." The conclusion for the crust: Not a fan. We have two more crusts to use, but after his we're sticking with the Pioneer Woman's version. Next time I want to try making hers with some whole wheat flour!
Day 5Salmon Pizza
This one was Kenny's pick for pizza, because he likes salmon. I was too busy making my own pizza this time to take pictures of his pie-making, but here's the gist:

He put an Alfredo sauce on the bottom and then placed some cut up asparagus and pieces of salmon on top of that. I think he put some Parmesan cheese on, too.

Verdict: He said it was "pretty darn good." (But admitted he liked mine better!)
*My photos are driving me crazy—in my opinion they're too yellow/brown and dark. Can anyone offer some photo advice for taking pictures in my kitchen? We've been making these at night when there isn't any direct sunlight. I only have a point-and-shoot camera and don't have any photo editing software. Any insight or am I kind of out of luck?
EDIT: I took the advice from the comments and used picnik to tweak the photos and I think they look better than before. They're still not how I want them to be, but they're better. The pictures shown here are the new versions*