I'm clearly not too creative this Monday morning, because all I can come up with are bullet points. So here ya go, a few thoughts and a few questions.
* I REALLY need to start working out and eating health again. Being in this honeymoon/newlywed phase is fantastic, but it's not so great for my waistline. I've been here for three weeks, so I think it's time to start making some healthy routines like working out in the morning, taking Bella for walks in the afternoon and saying, "no" to bad food. SO much easier said than done.
* Kenny and I have been married for over a month. And I love it!
* Kenny is deploying next month. And I do NOT love that.
* I think How I Met Your Mother is the new Friends.
* I'm five people away from having 100 readers—woot! woot!—and would like to have some sort of a giveaway. I have no idea what I'll giveaway, but stay tuned. (And really? There are that many of you who care what I have to say? That's pretty awesome, so thanks for reading!)
* When shopping at the commissary, do you tip every time or just if you have more than, you know, two or three bags?
* Jesstagirl and Her Officer is getting a blog-over in the near future, because apparently I get the itch to change things up every six months or so. But I need your help. Which one do you like the most? (These are from Rainy Day Templates, fyi)
A: (Catherine)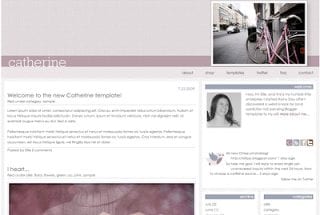 B: (Chloe)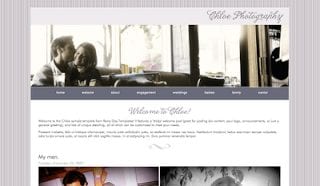 What's on your mind this morning?