Pizza Week: Days 1 and 2
Pizza Week: Day 3
Pizza Week: Day 4
Pizza Week: Day 5
Here we are with one day left to go in Pizza Week. Last night we had "Mexican" night, which really means we had meat and potatoes. We used Alton Brown's dough again, but we can't wait to start using The Pioneer Woman's crust from now on—Alton has some great recipes, but we decided crust isn't one of them.
The pizza I made was one of my favorites so far, and I know I say that about all of them, but it was just so delicious!
Day 6
Taco Pizza
I like to make tacos, because it's a quick and easy meal and always tastes good. I knew I wanted salsa as a base, but I really needed something a little thicker to hold the meat, so I combined some super spicy salsa with some tomato paste. The outcome was fantastic! I also added a little sugar to the paste to cut the acidity.


Then I browned 8 oz. of lean beef and some red onions with some garlic, black pepper, red pepper flakes, a little beef fajita seasoning and some cumin, then I put that on top of the sauce.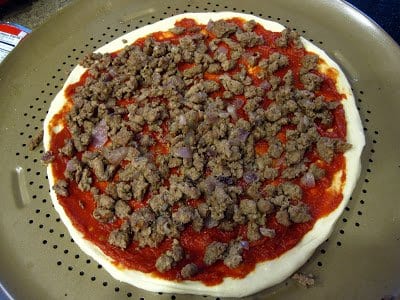 Then I threw in some whole jalapenos, because we like things hot over here!

And then, cheeese, of course. I finished up a bag of a four-cheese Mexican blend and a little sharp cheddar.

We stuck it in the oven and viola!

Verdict: De. Lish. Ous. (Totally not how you spell delicious, but it's better phonetically like that!) Seriously, the flavors for this was outstanding. I LOVED the sauce and how it complimented the meat and onions. I want to have this again very, very soon.
Day 6
Potato Pie
Kenny wanted to make a potato pizza, so he got out our new mandoline and started slicing some red potatoes. I was too consumed with making my pizza that I forgot to take pictures of his. He said he put some alfredo sauce down first, followed by some minced garlic, thinly sliced potatoes, red onion slices, and then some mozzerella cheese.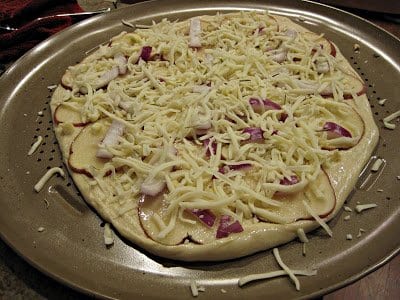 Verdict: Kenny said he really liked this one, but I wasn't a huge fan. I think the garlic needs to be roasted prior to going on the pizza, and I would have soaked or cooked the potatoes a little bit first. Overall it was a simple pizza and if Kenny liked it then that's all that matters!