Pizza Week: Days 1 and 2 ("The Regular")
Pizza Week: Day 3 (Breakfast, Pesto, and Steak and Alfredo)
Pizza Week: Day 4 (Buffalo chicken)
Pizza Week: Day 5 (Shrimp Scampi and Salmon)
Pizza Week: Day 6 (Taco and Potato)
Wow. We made it an entire week of eating pizza. I think Kenny and I figured it out that we went through 10 pizzas this week. Pizza week has been a blast! We had a lot of fun eating and making all of our pizzas, and I'm really proud of myself for venturing out of my normal pizza routine to try some different varieties. Every time we go to a pizza place I always want to try a specialty pizza, but I'm afraid it'll never be as good as the normal pizza I always get. Now I know they can be just as good, if not better!
Reading your comments and seeing your Tweets about Pizza Week have also made this project extremely fun, and I hope if you do try making a pizza we made here that you'll blog about it or at least let me know how it turns out!
Okay, now it's time for our pizzas from Day 7!
Day 7
Veggie
I love veggies and try to include them as much as possible when I cook, so it seemed only natural to try a veggie pizza. Usually I only stick to a couple veggies (mushrooms and onions) on my pizza, so I wasn't really sure where to go with this pie.
This pizza had zucchini, red bell pepper, onion, mushrooms, scallions, and tomatoes. I knew the zucchini would probably need to be cooked a little longer than the rest, and I LOVE the taste of sauteed veggies, so I split my produce in half and did an experiment to see which would taste better: sauteed or raw?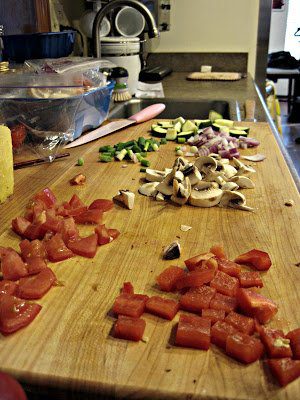 The rest was simple. I put the two halves on the pizza and then put a thin layer of mozzarella. I actually forgot to add the tomatoes and scallions, so those went on after the cheese. (I also used my "sauce" from last night—tomato paste, salsa, and a little water all mixed together.)


The final product looked great!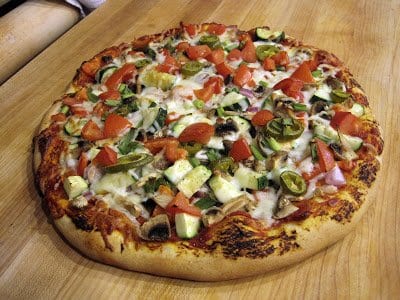 Verdict: I really wanted this one to taste spectacular, but honestly, it just wasn't doing it for me. Don't get me wrong, it was good, but it was lacking some sort of….zing. I will say that I enjoyed the sauteed side more than the raw side, because the veggies had a little more flavor. I think this one may have tasted better on a thinner crust. We went back to using The Pioneer Woman's crust, but this time we tried it with 1/4 wheat flour and it made the whole thing a lot denser. I'm glad we tried it, but we're going to stick to her original recipe from now on.
Day 7
Hawaiian Pie
Kenny went for a white sauce tonight, of course. (Have you seen a trend here? I like the red sauce and he prefers white!) He put some olive oil down first and then he cut up fresh pineapple.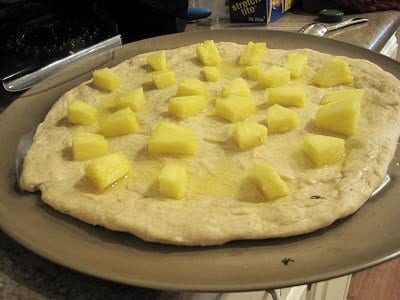 Then he quartered some Canadian bacon and put some fresh mozzarella around the whole pie.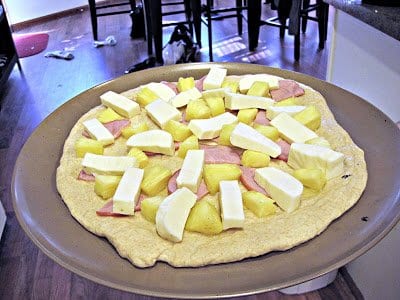 Here's the outcome:


Verdict: He really enjoyed this one and said it was very flavorful. Next time he's going to put more pineapple on it so there's a piece of pineapple and meat in every bite.