Over the weekend my Donut of Misery* said we've reached our halfway mark for this deployment.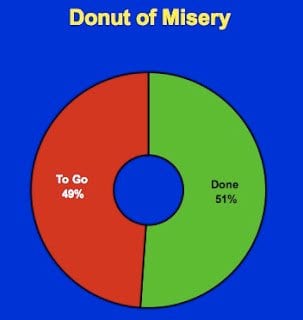 Half way. I can do this. We can do this.
If you're reading this and your husband, fiance, boyfriend, friend, or family member is/was in the service, thank you for all you've done. Today, on Memorial Day, I'd like to personally thank and remember those serving afar and those holding down the forts here at home.
*If you're not familiar with Donut of Misery it's basically a spiffy, albeit dorky, spreadsheet that calculates how much time is left before your love comes back home. You enter your specific information (date left, expected/estimated arrival) and it tells you—to the second—how much time is left. Like I said, it's pretty spiffy. If you're interested in getting your own "donut," leave a comment with your email address and I'll send you a generic copy.)