Finding my wedding dress was no easy feat, and because my lovely husband reads my blog (Hi!!!), I couldn't write about my adventures of finding The Dress. So even though you've already seen my dress and will see it again in a minute, I want to show you some of the rejects first. And it should be said that even though the following dresses were definitely not for me, they may look beautiful on you!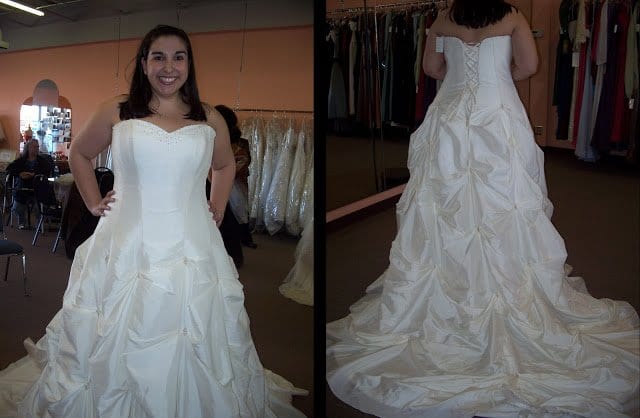 This was the very first wedding gown I tried on, and I'm not gonna lie, my mom cried when she saw it. But looking back on it now? Wow. I'm certainly glad I wasn't one of those girls who picked the first dress she tried on.
When I was younger I always thought I wanted to make a statement by having color on my dress. Yeah, not gonna happen.
I was so in love with the back of this gown. It was swoon worthy! But in the end, it was all the beading and crystals that threw me off…I'm just not a blingy girl.
At the time I thought any one of these could be The One. But, nope. Not for me.
And then I came across this dress that Mrs. Espresso from Weddingbee wore:
There was something so simple and utterly romantic about how it all flowed together. I looked the dress up online (Mikaella Bridal 1258), but there weren't any retailers near me that carried it. So I kept that dress in mind as I continued on my search.
Then I went to Brides by Demetrios and I found the dress! It was a close as I was going to get to the dress above, and I was in love. The kind of love that makes you twirl around with a giddy smile spread across your face.
While I loved the gown (Demetrios Sensualle: GR162) there were a few modifications I wanted to make. For example, it's hard to see them, but there are flowers scattered around the dress, and I'm not a "flowery" person, so I had them taken off. And since the dress needed to be hemmed a bit, the seamstress used the leftover material to make a bow similar to the one in the inspiration picture.
And the result? Well, the result was absolutely perfect.
Missed it? Something Old
Next up: Something Borrowed