(Well, hello! I think I gained around 30 new readers practically over night! I'm extremely happy you're here and reading what I have to say. Just to give my new readers a bit of background: my newlywed husband and I—we've only been married two month—are in the early stages of a deployment, which brings me to this lovely post. Thanks for reading!)
Sometimes I really hate technology. I hate the power and control it holds over me.
Long ago, before cell phones, instant messaging, e-mail, and Skype, there was only one way of communicating while your soldier was deployed, and it was with a good ol' fashioned piece of paper and a pen. Husbands and wives would sit down and write each other letters, and that handwritten letter would be sent overseas and arrive the person's mailbox.
I can only imagine the anticipation of waiting for the postman each day to see if he was delivering you a letter. When I think about it I can see the wife ripping open the letter and reading the entire thing without even moving an inch away from the mailbox; I can see the rest of her world melting away as she focuses on the letters written on the piece of paper. And if she didn't receive a letter that day? I can see her being momentarily sad, but then she could go about her day until the postman arrived the next day.
But that's not how it is today.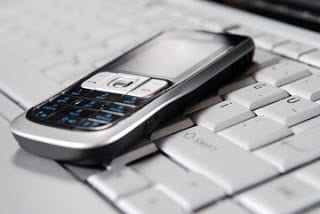 I'm only nine days into this deployment and I'm already a slave to my cell phone, iTouch, and computer. We figured out a way for him to text my cell phone from his iTouch so he can tell me to get online so we can Skype. Only, that simple process of sending a few texts takes around a half hour for all of the communication to go through. Then, by the time we both get online, either Skype isn't working or there's limited bandwidth and the connection is lost multiple times. We'll try making it work for another half hour or so—sometimes longer—and in the end we usually call it quits, because one of us is too tired to keep trying—remember, it's usually the early hours of the morning for one of us.
The anticipation of getting *thisclose* to talk to him, but having it inevitably fall through is emotionally draining.
I have more to say on this topic—like what happens when they say they'll be online, or call, at or around a certain time, so you sit idly by for hours hoping to hear from them, only to finally give up hope and go about your business—but I'm writing this at 11 pm, because I woke up at 6 am by a text to get online, and I'm exhausted now.
My point is that I'm greedy and would like it to be all or nothing. While I love seeing his name pop up on my computer, I never know if it'll work, so I get my hopes up, only to be let down a little bit later.
Sometimes I really hate technology. But other times, like last night while I was halfway through writing this, I really love it. My husband got online and we were able to instant message each other for quite awhile. I guess it's more of a love/hate relationship.
(And if you're reading this, Kenny, even though I just wrote an entire blog about how I hate being attached to my computer, let's keep trying to make Skype or some other video work, because it's been awhile since I've heard your voice and seen your face, and I really miss it. And I'd rather be tired all day and lose sleep if it means being able to talk to you for a little bit.)