Remember a few days ago when I said I hurt my back? Well I'm happy to say that I'm doing MUCH better. It only took a trip to the Urgent Care, two shots where the sun don't shine, an almost fainting episode, muscle relaxers, and an amazing physical therapist. Now I'm doing my best to guard every move I make and to strengthen my back so I don't hurt it again. The pain I felt was awful and it literally brought me to tears and drove me to the ground.
This weekend I was on a mission to find a carry on that wouldn't hurt my back while traveling. I usually stuff my magazines, books, keys, wallet, phone, and laptop—and the kitchen sink if it would fit—into a bag that I sling over my shoulder and carry on the plane as my "personal item." Well, that's not going to cut it for my next trip, so I went to Ross and TJ Maxx this weekend to look for something more travel friendly….and cheap.
Here's what I found: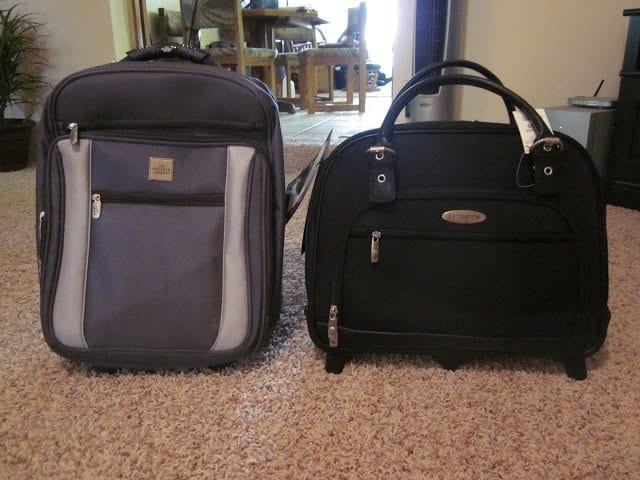 On the left is a miniature version of a regular-sized carry on. It's by The Sharper Image, but the only decent description I can find for it is here.
The Pros:
I'd be able to put some (like for one day—two at max) clothes and essentials in this little luggage for an over night trip.
There is A LOT of space and I could pack books and magazines and anything I wanted and not have to worry about my back.
It's cheaper than the other one
The Con:
I can only use this if I check in my bigger luggage, since this is too big—I think—to fit under the seat in front of me.
This is a crappy picture of the one on the right. It's a Samsonite "Ladies Double Gusset" Whealed Portfolio.
The Pros:
It's small enough that I could still take a regular-sized carry on with me (not for this trip) and slide this little sucker under the seat in front of me.
I can still put books and magazines in it.
May get more use out of it since I can take it whether I check-in or not
The Cons:
It's more expensive
It's smaller
If you've read this far then I applaud you! I'm also going to make this an interactive post. Based on what I said above, please let me know in the comments which you bag you would pick and why! Gracias!