Cupcakes are kind of my thing. I love them so much we had them at our wedding (I know, I know, I need to get more recaps going). So I was really excited that my third cake decorating class was centered around cupcakes.
We were told to bring in six un-iced cupcakes, so the day before I set out to make healthy cupcakes. Since I'm such a huge fan of the tiny cakes and knew I would want to eat at least one, so wanted them to be healthier than the "normal" variety.
One thing led to another and the Hungry Girl recipe I used was a huge disaster and I ended up with 24 sunken-in cupcakes. This isn't the first time I've failed at making a baked good healthier, so I'm pretty sure the moral here is that you aren't supposed to take shortcuts or make substitutions with desserts. Right? Right.
Luckily, boxed cake mixes are cheap, so I made another full-fat batch and I was on my way. I was concentrating so hard during class that I forgot to take pictures, so some of these are from my house this morning. I'm also thankful my husband took most of these to work yesterday morning so they wouldn't tease me and beg me to eat them!
First we learned how to make PomPom Flowers, which were definitely my favorite of the bunch.
Then we iced our cupcakes.
Apparently making "leaves" is one of the easiest techniques. Personally, I think they look like little green blobs, but whatever.
And then it was on to "Shaggy Mums." I think these look a little more like a mop head, but they were certainly fun to make!
I know this is silly, but I'm mad the cupcake on the front left is in the picture. The instructor borrowed my cupcake as an example cupcake for how to make the frosting design and I really don't like her work. It's a terrible frosting-to-cupcake ratio and any cupcake connoisseur would know that. Anyway, I wish I realized that this morning and replaced it with a better looking cupcake. End rant.
We also learned how to fill the cupcakes with a pudding or jam, which is something I've always wanted to learn.
Since my husband took some to work I quickly frosted a few extra cupcakes, but I didn't do anything special to them.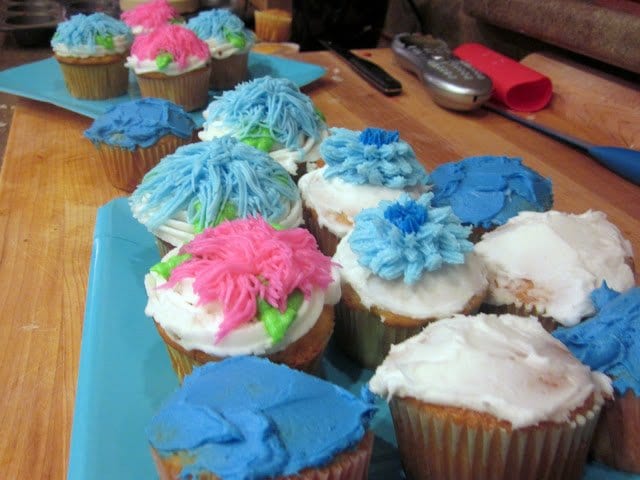 And yes, that's our remote on the cutting board. We were up this morning watching the P90X video that we're starting tomorrow. (See why I needed to get rid of the cupcakes?)
This picture makes me smile.
Next week is the final class and we have to make a complete cake and take it in with us, then we'll learn a few more flowers and how to write on a cake. I'm not going to lie, I'm terrified of making it all on my own without any help. Hopefully I won't have a Cake Wreck on my hands!