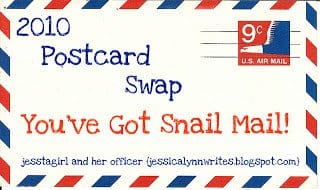 Hi ya'll. I just wanted to touch base and make sure everyone is on the same page for this swap.* Hopefully by now you've all received a name from Elfster (check your junk mail for santa@elfster.com if you haven't) and an email from someone asking for your mailing address.
Basically it works like this:
The name you received in the email is who you are sending a postcard to. You need to email that person and ask for their address.
Someone else received your name, so they will email you (or still need to *hint hint*) to get you address.
Does that make sense? Have you been in touch with your person? Has someone else been in touch with you? Let me know if you haven't and I'll try to make sure everyone is good to go. This only works if everyone who signed up participates!
*This is clearly the first time I've done anything like this before, so if we want to do it again I may figure out a way to make it easier for eveyrone. Thanks for your patience; I hope it all works out okay!