I just love saying "Friday Eve," because it reminds me of Christmas Eve and New Year's Eve—two of my favorite days of the year. Plus, Fridays pretty much rock, right? So since I'm apparently "rambling" today, here's a synopsis of what I'm talking about: Postcard Swap, Fall Foto Contest, and Friday Fill-in answers.
1. Postcard Swap.
Have you all sent out your postcard? I received mine in the mail on Monday (YEA!!!), and I'm completely admitting procrastination, because I'm sending out my postcard today. (I sincerely apologize for getting it out so late!) I'll have a post up at the top of the blog for an entire month, so come back and link your postcard post whenever you receive it and whenever you get around to writing it. (Seriously, how many more times can I say, "post"?)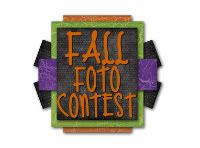 2. Fall Foto Contest
I'm entering this photo in G.I. Joe's Wife's photo contest!
3. Wife of a Sailor's Friday Fill-in answers:
1. What's the nicest thing a milspouse has ever done for you? Soon after my husband deployed—I really think it was the next day, actually—my friends "kidnapped" me and took me to the Vidalia Onion Festival about an hour from where we live. It definitely took my mind off not having him around at the very beginning.

2. How often do you drive faster than the speed limit? Unfortunately, all the time. Driving on base is extremely difficult, because I have to force myself to go the speed limit. I'm not a really fast driver, but I get antsy going really slow.

3. Did you have a nickname in school? If so, what was it? Not necessarily in school, but my cousin's gave me the nickname of "Nappy," because I really like to take naps. We all went to Vegas one weekend and I stayed out until the sun came up, well because of that, I wanted a nap in the afternoon. They made fun of me for napping. Whatever. I love naps!

4. If your life was a book, what would the title be and how would it end? Hard question! "A Day in the Life…" Geez, I don't know!

5. Look back (in your planner if you have one) to September 14th… what did you do that day? I can actually check out my archives!