The Compact Disc Situation
Four months before we got married, I packed all of my stuff in a Penske truck and moved to Georgia. When I got to my new home, we mix and mingled our things—books, DVDs, CDs, etc., and promised we'd organized them later.
Over the past year and a half I managed to organize our DVDs and separate my chick-lit from his sci-fi books, but our CDs kept growing and growing and getting more and more disorganized.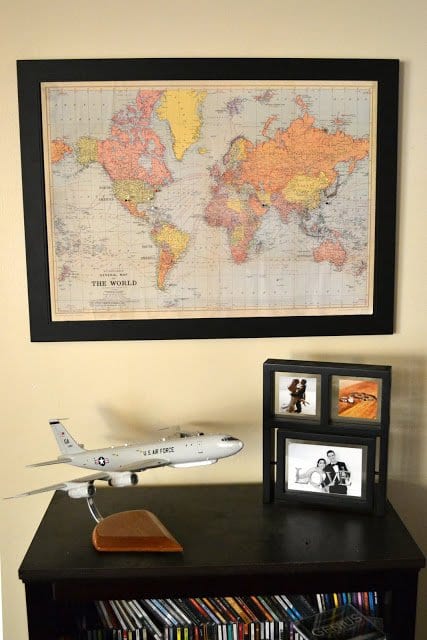 I really thought I had a better "before" photo, but it turns out this is it. (picture from the Newlywed Map post)

We had so many that they took over an entire bookcase and then overflowed into other rooms of our house and even into our garage. They were so out of order: Hanson was sitting next to The Who, and Sarah Bareilles was wedged between AC/DC and Neil Diamond. We clearly had a problem, but I didn't want to have to do the boring and tedious job on my own! "Organize CDs" has been on my to-do list since I found out we were moving, but I kept finding other things to do besides alphabetizing our CDs.
Random CDs we found without a home (i.e. case)
Luckily, my friend Jen came to my rescue and helped me alphabetize all the albums one morning. Surprisingly, it only took an hour to get them in order. It turns out, though, that alphabetizing them was only step one in the organizational process.
This is about 1/4 of them—totally forgot to take a picture of all of them.
To save space, my husband
bought several binders
for all the CDs to go into, so the next steps involved taking each individual CD out of its case, along with the liner note, and placing it into the new binder. My husband slipped the albums into their sleeves alphabetically (leaving spaces here and there for new CDs), and I was in charge of keeping the liner notes alphabetical. I also kept the now-empty cases alphabetized in case we still want them later (they're going into storage while we're gone).
It took a decent amount of time to finish the project, but now that it's over I'm so glad we did it. We took several rows of CDs and fit them into five binders! Now we have an entire empty bookcase we can use for something else when we move, not to mention that we can easily find CDs now.
Do you find yourself doing any sort of crazy cleaning before you move?