Guest Post: An Army Brat's Perspective
Hello! This month is busy for me—right now I'm either on a road trip saying bye to friends and family, prepping for our move, or en route to Italy! In the meantime, I've set up some scheduled posts with great guest bloggers for you. I hope you enjoy! Ciao ~Jess
A few months ago the amazing Jessica asked me if I would be willing to write a post about being a military brat. I'm going to be honest, at first I balked. How could my very personal and unique experience speak for the thousands of other children who have also lived this lifestyle. Then I saw her beautiful photos of the Armendinger family and I realized she was giving me an opportunity that most military brats don't have—to share their experiences with others.
Growing up with a father in the Army was wonderful in more ways that one could ever imagine. My father was a hero, he put his country and family before his own life, he was someone you looked up to—someone other people saluted. I loved how important my father's job was, and how he wore his uniforms with dignity, brushing his shoes every night before bed. These behaviors were something to be expected in my family, my father himself was an army brat and walked in his own father's footsteps.
Living on military bases is one of the best ways to grow up. I grew up in a safe community filled with parks and places to play, protected from outsiders where people obeyed the speed limits (you don't mess with the MPs!). Communities weren't segregated by the color of one's skin (more like rank and size of family) and it was common to meet new multi-racial and multi-lingual friends at church on Sunday. It was on post that I learned how to both make friends and say goodbye, that life goes on. We were all strangers on base together, whether it was Ft. Lee, Ft. Knox, Ft. McPherson or Ft. Leavenworth – none of us were from there and we knew our time there was limited. We bonded, we helped each other through training and deployments, base is where life went on.
But lets get to the hard stuff. The deployments, the training, the early mornings and sound of guns, tanks and blackhawks at night. "Shhhh my momma would console me, they're far away. They're only practicing, get some sleep."
I was the epitome of a daddy's girl growing up, I adored my father, and every time he had to leave – whether a weekend or months, I would sob myself until I was sick. As a child it was incomprehensible to me that my daddy was leaving. No matter how many times your momma says "Your daddy is a hero, he's working for our country, he loves you very much and will be back soon" – you never want to hear it again. You just want your daddy home.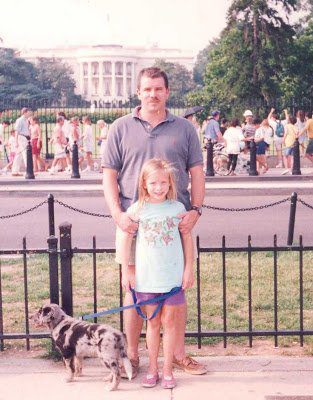 I vividly remember my father driving off a month before my 5th birthday. We had been stationed in Milwaukee for a half of year. I was already done with the Wisconsin winters and my mother had told me stories about our next assignment, how it would be much warmer in Ft. Sill, Oklahoma. How we were moving there because there was someone bad in the Middle East (she even showed it to me on a map) and daddy needed to get to Ft. Sill so he could train soldiers how to shoot guns and protect us all. (My mother did a fantastic job rationalizing my father's job and our family's duty, I just never quite bought it.)
About a month after my father deployed, my mother orchestrated a move: filling out paperwork, hiring a moving company, organizing our belongings, and finishing up our lives in Wisconsin. Before we left she threw me an early birthday party with my new friends, then she packed me, our dog and cat up in our family van and drove on south west towards Oklahoma. My mother drove the entire way, almost through the night. We were only in Ft. Sill for 3 months. This was the life we grew accustomed to.
This photo makes me laugh, because you can see by the look on our faces, we were not too excited about this move. It reminds me of one of the Oregon trail photos, but 150 years later.
But I was lucky. I was a child of the 80's and 90's. My father trained soldiers for desert storm and worked a desk job in his later years. My father submitted his retirement papers a week before September 11th. I could not imagine what children today go through with their father's leaving the country for a year or two on end. Sending drawings in the weekly care package and practicing my ballet recitals over a web cam.

Even at 25. My father has been retired from the U.S. Army for 10 years now and currently on Department of Defense contracts and leaves to Qatar, Iraq and Afghanistan to help protect our country. Even at 25 I break down and cry every time. Except now it is different. My father is a bachelor so now I get to be the executor of his estate. I get to be the one who has a copy of his will and who might one day divvy up his assets. I get to be the one who gets the call if something happens. I have to be the adult this time. Even though this has been my father's (and with that, my) lifestyle for all 25 years of my life, it never gets easier.
I'm sharing this, my unique and personal story, with y'all because I was touched by the young Armendinger children. While our soldiers are heroes, they rarely stand alone. They have mothers, fathers, sisters, brothers, wives, husbands, children and friends. They have communities of support systems who often get forgotten. Next time you see a soldier, please thank them – thank them for all they do to protect our freedoms. And while you're at it say a prayer for their families and friends, without their support that soldier may not be there at all.
You can read more from Hannah at her blog, GatorTales.