Moving to Italy: part three
The morning of September 20, my husband woke me up, looked me in the eyes with a cocky little smile and asked if I felt like going to Italy today. I rolled over and asked to sleep for five more minutes. Just kidding! Today was the day! To say that we were excited was a bit of an understatement. We were anxious to get the day started, but knew we had several hours before our plane took off. We asked for late check out at our hotel and took care of a few very necessary tasks before heading to the airport.
One final Target stop, for example…
We had a few last minute things to pick up:
truth be told, we had to go to walmart, because Target didn't have the dog food bowl, or the little travel toothbrushes I wanted.
And then it was time for lunch. Our last American meal (airport food doesn't count) was at Ruby Tuesday and it was awesome. My husband got a big ol' American burger complete with blue cheese, BBQ sauce and an onion ring, and I had the salad bar with their mini sliders. So good!
Then we were off to the airport! We wanted to get there as early as we could, just to make sure we had allllll the necessary documents for Bella. Once we checked in (we could check in our bags, but had to hang on to Bella until we boarded), we found a "Pet Relief Area" to walk Bella. If you have a pet, it has to remain in their crate at all times while in the airport, so we wanted to let her out to stretch her legs and do her puppy business.
While I was walking her I managed to do something extremely stupid. There was a rocky path and my right foot managed to find the one crack between the rocks and the grass. Before I knew it, I was on the ground. My immediate reaction was to cry because it hurt so bad. Then my mind kicked into high gear and instead of crying I started to think. My husband was on his way to the bathroom when I fell, but he rushed over and hopped the rail to come help me. He said he was shocked I wasn't crying, but could see the wheals churning in my mind.
All I could think about was how I probably just broke my ankle five hours before getting on a plane to move to Italy. Really, Jessica? Really? I envisioned an ambulance taking me away and causing a huge, embarrassing scene. I just knew that I did something incredibly stupid and I'd have to stay in America to fix it while my husband and dog left without me. That's what ran through my mind instead of crying.
Luckily, I was able to think clearly and made my mind focus on being okay. With my husband's help, I managed to stand up and I hobbled over to the USO to get a bag of ice. I spent the rest of the time at the airport with my leg elevated and iced. Later, Kenny managed to track down a bandage to wrap my ankle. This happened a week ago and it's still giving me some issues, but I'm so thankful I didn't break it that day at the airport.
Falling into holes aside, getting Bella and ourselves on the plane was easy peasy. We had to leave her at the same place we checked in, and when we were on board the flight attendants came over and personally told us that she was safely in the cargo area. It was a huge sigh of relief knowing she was on the plane. Then, before we knew it, we were ready to go!
The flight to Germany was about eight hours and I think we managed to get about three hours of sleep. I couldn't resist a picture of the sunrise—I think this was somewhere over England.
As we were flying over Germany I couldn't help but notice how pristine and beautiful it looked. Every inch looked completely well-manicured and picture perfect.
In Germany, everyone had to get off the plane and go through customs. I got my passport stamped (woohoo!) and we were able to walk Bella around. (Again, she did wonderful on the plane!) We had about a two hour layover and then we headed back to the gate.
….and then we waited…and waited…and waited some more.
Two hours turned into five, which eventually turned into eleven hours of waiting to board the plane. There was something wrong with the plane and they kept thinking they could fix it. When they realized they couldn't (around 10 pm), they told us they made sleeping arrangements for everyone and that we could pick up the buses in an hour.
At 11 pm, 240 people (civilians, dependents, military members, and five animals) boarded five buses and drove TWO HOURS away to our "hotel." Since we had no idea where we were going and were so sleepy, we didn't really question where we were going, but when we started seeing signs for Luxemburg, we started getting a little concerned. While I'm impressed they were able to find a place for
all of us to stay, we were exhausted and traveling even more was the
last thing we wanted to do.
We arrived in Bitburg, Germany, around 1 am, and stood in a very long line with everyone to grab the keys to our room. The airline (we were flying on the military "rotater," which is a commercial plane contracted out by the military) paid for our accommodations, transportation, and food, and when we checked in they even had a goody bag filled with fruit, water, and sandwiches. It was very much appreciated. After going through a ridiculous labyrinth surrounding the hotel, we finally found our room and immediately fell asleep.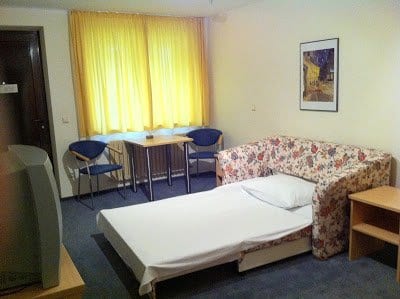 our digs for the evening (took this picture in the morning)
Luckily, the place we stayed offered us a nice spread for breakfast, which we gladly accepted. After eating we all loaded the buses again and headed back to the airport. Since we drove to our hotel at night, I loved seeing Germany during the day. It was absolutely gorgeous (I took these pictures from our high-speed bus ride, which doesn't do them justice. I also didn't edit them…because I'm lazy).
At the airport, there was another delay when we got there, but they promised we'd be up and running "in no time." Five long hours later, we were finally in our seats and on our way to Italy…again.
All in all, we had a 26-hour delay in Germany. Was it the way I intended to see Germany for the first time? Heck no! But now we have a fun story to tell our kids and grandchildren some day. "Hey, remember that time we were stuck in Germany and stayed at a place in the middle of nowhere…"