Save the Date: Souperfly Soup Day
Growing up, there are several things I loathed eating, but are now my absolute favorite foods. For example, mushrooms and steak come to mind, and now I would eat those every day if I could. Another meal I hated to eat and wouldn't touch with a ten-foot-pole was my mom's stew*. I went through an I-think-meat-is-disgusting-and-therefor-I will-not-eat-anything-with-meat-in-it phase, and unfortunately, my mom's crock-pot stew with slow-cooked beef, in a seasoned broth, and loaded with tons of veggies, fit that bill. Oh, how I wish I could go back and slap myself, because these days I've been craving that stew.
On top of not liking meat when I was younger, I also hated soups (see how the stew and I didn't get along?). I didn't see the purpose in eating a bowl of liquid for a meal when you could be eating real food. But, again, if I could go back in time, I'd ask my teenage self to stop being ridiculous, because soup is awesome.
One thing we didn't consider when we moved to Italy was that we'd be living in a "normal" climate again. Let me explain. Growing up in New Mexico, we experienced four, very distinct, seasons and typically, fall emerges around the beginning of October. The temperature drops significantly and everyone busts out their scarves, beanies, and warm-weather garb. But living in Georgia for the past several years completely jaded us, because it's hot and humid nine out of twelve months. Typically in the fall, when the temperature says it's going to be in the 60s or 70s, it's already reached that high temp by mid-morning and it lingers until the sun goes down. In a normal climate, however, it's chilly all day long and maybe peaks at the high temp for an hour or so.
My husband and I packed poorly for our move and now we're freezing our little bums off! I have one pair of jeans out here now (that have developed holes in them) a flimsy, lightweight jacket, a few "decorative" scarves, and a lousy hoodie. Long story short, we're missing our stuff big time!
Maybe it's because we've been living in and out of hotels for more than two months and I desperately miss having my own kitchen, but I'm craving soup. A big ol' bowl of warm, hearty, soup.
Tomorrow we're moving into our house (HOORAY!), but we are still waiting for the majority of our stuff to arrive. In the mean time, I want to be prepared for when my slow cooker and big pot arrive, so I can make soup. Soup, stew, chili, bisque, chowder; it's really all I can think about!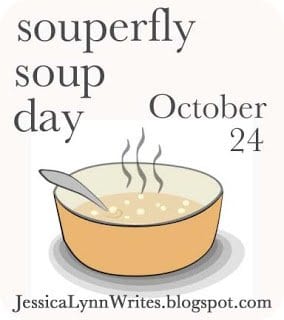 So I'm asking you to save the date for a Souperfly Soup Day on Monday, October 24 (my husband totally came up with the name, by the way)!
I want you to make your favorite soup—or one you've pinned— over the course of this week or over the weekend, write a post about what makes it the bee's knees, blog about it, and then come back here to link up your recipe next Monday so I can we can all make it!
*Mom, please make the stew, jot down the directions, and tell me how make it! I need it in my life.