What good is taking a picture if I just hoard it on my computer? Here are a few I've taken over the past week from my iPhone. You may have seen these pop up around Twitter or on the JLW Facebook page, but there may be a few you haven't seen! We also just got the Internet at our house yesterday, so I have several posts in the works—stay tuned!
I told you that we got our stuff, well…here's about an 1/8th of the mess we (still) have:
This was on the actual moving day. The movers tore through the crates and boxes like nothing I've ever seen before. Our neighbors must've been freaking out.
This is just a section of the emptied boxes. I had/have my work cut out for me. Boxes against the wall are all broken down. I could easily fill an entire room with the amount of paper and boxes we have.
Our new kitchen has limited counter space, so my husband and I picked out a long island cutting board for more storage and space. My fabulous friend came to our rescue when it came time to go get it from Ikea. We drove through pouring rain to get our much-needed furniture.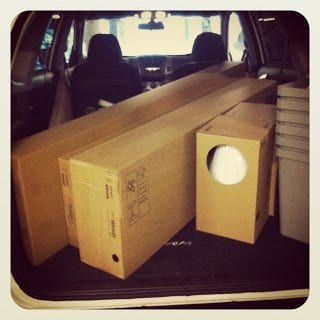 Yeah, I'm very thankful for her car's ample space
Once home, I popped open a delightful bottle of wine and watched as my husband put the massive piece together. Just kidding…I totally helped him 🙂 We also put together a pantry, but I'll take pictures of that another time.
Back in Albuquerque, we have the Sandia Mountains. "Sandia" in Spanish means watermelon, and the mountains are named after the gorgeous pink/purple color they turn during sunset. It's one of my favorite aspects of home. Seeing purple mountains—at sunrise here—brings me unbelievable joy and comfort!
Speaking of more pretty things… 🙂
This is a view from our daily drive home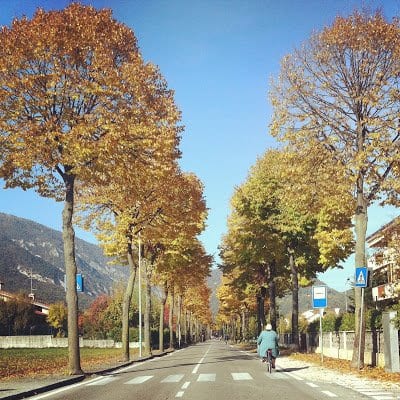 A tree-lined street into our town, complete with a little old lady riding a bike (a very common sight)
Last weekend we took a trip to a pumpkin festival and a great winery! Blog post coming soon. I need to cull through the photos I took from that trip.
We ran into a little blunder with our kitchen. At first, we couldn't get our stove to work, but our landlord talked us through how to get it going. Then, we tried using the oven. BIG mistake. With absolutely nothing else plugged into any outlet, having the oven on turned off our electricity. Yikes. Luckily, our landlord is fantastic and had the "oven guy" come take a look. It turns out there were some crossed wires or something, and he took care of it. Long tale short, we cooked breakfast for the first time in our house this weekend and it was delicious!
And last, but not least, yesterday we got dolled up and went to a Halloween party at my friend's casa!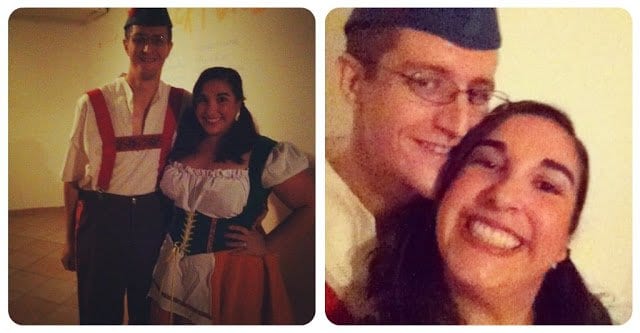 I love the pictures, and I'm so sad at the quality. I need to use the flash more in low-light situations.
In true, Jessica style, I decided not to waste a glass and just drink my wine from the bottle. I also got very sad when I drank everything to the last drop. Good thing the winery (blog about it soon) is just 20 minutes from our house!
Till next time…
Ciao 🙂