40 Hours in Paris: The Eiffel Tower
Last week I shared photos from our trip to Paris, but I purposefully left out one important stop: The Eiffel Tower. Just before my senior year of high school I went on a whirlwind tour of Europe. It was my first taste experiencing a foreign country (Canada kinda counts) and I completely fell head over heels for everything. But like I said before, Paris was the only sour apple of the trip. The only thing I remembered enjoying was going up the Eiffel Tower. Looking at Paris from so high off the ground was exhilarating and I literally felt like I was standing on top of the world!
When my husband told me he had been to Paris, but not the Eiffel Tower I knew we absolutely had to visit it again. I bought our tickets online and
picked what time we wanted to go up the tower, which turned out to be
an extremely smart move—the lines to get tickets at the tower were
extremely long. All we had to do was flash our tickets (which were saved
on my handy-dandy phone) and we jumped the lengthy queue!
Seeing it again truly took my breath away; I forgot how massive and gorgeous it was up close. It stands at 324 meters (1,063 feet—about as tall as an 80-story building), receives more than seven million visitors a year, and you can see around 37 miles from the top. Unfortunately, it was a tad bit hazy when we were there, so we couldn't quite see all 37 miles. Close, though!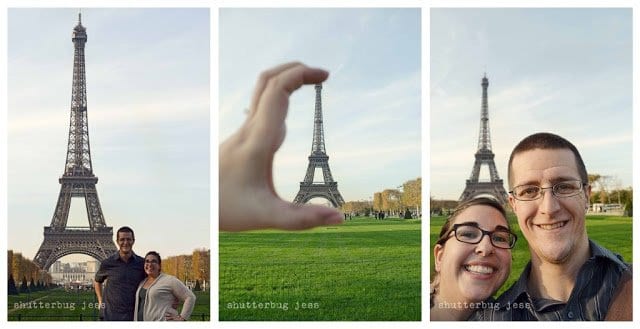 I'm pretty sure it looks like I"m wearing the Eiffel Tower as a hat in the right picture.
I think the picture on the right is my favorite. Which is your favorite?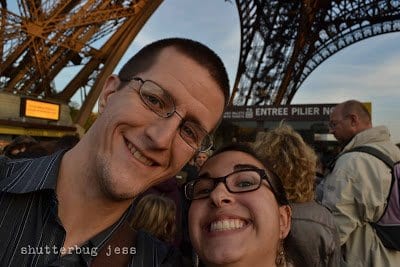 Getting ready to go up!
You take a slanted elevator up to the top! Or you can always walking around the city, the last thing I wanted to do was climb almost 2,000 steps.
Fun fact: I'm scared of heights and it only seems to be getting worse as I get older. Somehow, though, I have no problem riding in hot air balloons, but that's a tale for another day. Going up a slanted elevator, though? It freaked me out. I shoved my camera into my husband's hands, closed my eyes, and held onto him as though he were a pole. Once we got up there I was fine, but the ride itself had me on pins and needles.
I wanted to be up there at sunset and I kind of succeeded. I was shocked at how populated it is in Paris. Apartments and buildings stretch as far as the eye can see!
What's that? You want a few more of the Eiffel Tower? Okay, you twisted my arm. Here are my two iPhone favorites:
Photo on the right chopped, diced, and put back together again with Diptic.
Ciao 🙂