Sunday Snapshots: Thanksgiving Edition
We've been busy over here the last few weeks and I'm working hard on catching up. I hope you all had a wonderful Thanksgiving!
On a side note, I'm going to try taking less pictures from my iPhone, because, like my husband said, it's becoming my photography crutch. Ouch. Those words stung a little when he said it, but it's completely true. I have a big, ol' "fancy" camera that I love and here I am using my iPhone all. the. time. It's just so fun and easy to whip it out, snap a picture, and immediately send it out into the world (wide web). The problem is that I forget to go back to my other pictures. So my goal for the near future, is to work on finding a balance. Anywhosit, enough of my rambling, here are some photos (not from my iPhone, thankyouverymuch):
He was getting his apple-pie bake on!
I truly believe I only like cooking and baking as much as I do now, because I can sport fun aprons in the kitchen.
We usually make a homemade apple pie every year, and every year we use the same recipe. It's always been so scrumptious, but for some reason the crust failed this year. My husband thinks he knows where he went wrong, but nevertheless, the crust just didn't cut it this year—the filling, on the other hand, rocked my Thanksgiving world. With that said, I don't have any pictures of the final pie, but I couldn't resist sharing these:
I had to throw this one in here (again). It's from my iPhone and I love the way it turned out. It's like the sun flair is making the little pie bird sing!
Bella couldn't resist the delicious aromas flowing through the kitchen. And seriously, could her little puppy-dog eyes be anymore irresistible? We're such suckers. Bella ate very well on Thanksgiving and slept even better the next day 🙂
she was after a roll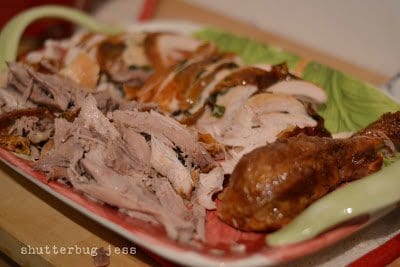 then she was after the turkey. Who could blame her?
We had a full table for Thanksgiving (six adults and three kids!), but by the time everything was ready and set, taking pictures was the last thing on my mind. I mean, really: take pictures of all the hot food or eat the once-a-year awesome hot food? It wasn't a hard decision. Here are the few I did take:
I'm only sharing this one, because I am really going to post the recipe for the green bean casserole (bottom left) this year. I know I say that every year, but I'm going to this time. For real. It's too good not to share.
A full plate of AWESOME (this is pre-cranberry relish, I slathered that sauce on there seconds after taking this picture)
I practically licked the plate clean. Goodness, gracious, I love Thanksgiving!