Growing up, I developed a reputation during the holiday season at my house: it was assumed that I would take the most glorious nap on the couch while my younger brother and mom made Christmas goodies for all the neighbors.
I would start out helping, but somewhere between my favorite no-bake oatmeal cookies, the melt-in-your-mouth English toffee, mini-loaves of bread and countless other goodies, I'd come down with all the classic symptoms of needing a nap: my eyes would get heavy, the yawning was more prominent, and the only thing I wanted to do was rest my head on a pillow. So that's exactly what I would do. Every. Single. Year. Luckily, my brother would help my mom finish the desserts while I dozed. Some help I was, right?
My mom knew better, though, and always saved one last cookie for me to help make after I had my nap: gingersnaps. For awhile they were actually fun to help create—my brother and I would roll them into tiny little balls, plop them in a bowl with sugar and sprinkle the tiny crystals all over them until you could hardly tell there was dough underneath.
Gingersnaps also happen to be my dad's favorite cookie, which meant that besides quadrupling the recipe for the holiday bake-a-thon at our house, it meant we'd also make them for his birthday and any other random just-because day. In fact, we used to make so many of them so often that this is the first year I've started introducing ginger into my life again. True story. I would find something else to eat or make if ginger was in any dish, because I had visions of gingersnap dancing in my head. Until now.
When I was researching what cookie I wanted to make for the Great Food Blogger Cookie Swap I was going to try something fun and unique—a classic cookie with an Italian twist. I even bought all the ingredients, but I never made it (the ingredients are still sitting in my pantry; I'll make them sometime). For some reason I kept thinking about those darn gingersnaps from decades ago—those gingersnaps I loathed making were now calling my name.
I answered the call by opening my family's recipe book. While my photo-copied page doesn't look near as "worn" as the original, I still had fond memories while making these. I had flashbacks to all of those baking days with my mom that I took for granted. I also felt a little strange since this was the first time I've actually made them start to finish, instead of just having the task of rolling them and covering the balls in sugar. Talk about a grown-up wake-up call!
If you need a quick and easy cookie to make—possibly with your little ones—this is it. Dunk them in your morning coffee (my dad's personal favorite way to eat them) or enjoy them as-is, the flavor is magical and they practically melt in your mouth. It makes around five dozen and they'll keep for quite awhile, although I don't know how since they're so gosh-darn tasty!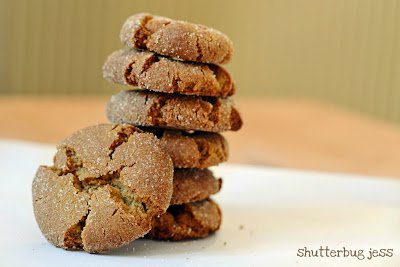 Gingersnap Cookies
by Jessica Lynn
Ingredients:
3/4 cup Crisco
1 cup sugar
1 egg
1/4 cup molasses
2 cups flour
2 teaspoons ginger
2 teaspoons baking soda
1 (heaping) teaspoon cinnamon
1/2 teaspoon salt
1/4-1/2 cup extra sugar for rolling
Directions:
Preheat oven to 350f or 180c.
Cream together Crisco and sugar in a medium-sized bowl. Add in the egg and molasses; mix well. Add remaining ingredients (except the extra sugar) a little at a time; mix well.
Roll dough into little balls (about the size of a ping-pong), then roll balls into white sugar. Place on parchment or a wax-paper lined cookie sheet. Do not flatten—they will flatten as they cook. Bake for about 12 minutes. Enjoy.