Find Your Eye: Why Photography?
In an effort to stay busy out here, I've started taking some classes. Right now they both happen to be photography classes, and I couldn't be more excited. One class is actually a set of four sessions that will be held on base. The topics cover travel, macro, food, and a whole class on understanding your camera. I can't wait!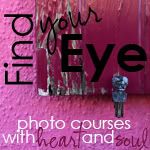 The other class I'm taking, based online, is called "Finding Your Eye," with
Kat Eye Studio
. I love the title of the class, because it reminds me that, while I'm still tuning my "voice" as a writer, I should also work finding my eye when it comes to photography.
The first lesson prompt was simple: "Why do you photograph? Unfortunately, I couldn't come up with an answer. Different images would come to mind, but nothing really stood out. Then I read the next paragraph with a few more questions:
Why do I take photos? What draws me to photography? What are my motivations? What keeps me excited and interested?
The instructor, Kat, says "Understanding and following your personal motivations is the first step to finding your eye," and just like that, a photo came to mind and I found my answer.
I like pushing myself out of my comfort zone with my writing and I think the same holds true for the pictures I take. I like capturing an audience's attention, and when it comes to pictures, that typically comes from a spontaneous moment. I know this may sounds strange, and may leave me a little vulnerable for sharing this, but I get a thrill out of making a reader emotional; if I can make someone laugh, cry, reflect, happy, or even a little uncomfortable, then I'm content with my work.
My weakness, I think, is that I get too comfy and don't take enough risks with photos I want to take, or with my words the words. I think the more I learn to use my camera the more I'll feel at ease with getting out there. I know this prompt has nothing to do with weakness, but I think it ties in to why I photograph and will help me find my eye.
So, why photography? Because I like the raw emotion it can bring out of people and that it forces me out of my comfort zone. I realize the photos above don't necessarily encompass that, but that's what I'm aiming for. Perhaps I'll find a different "eye" along the way.