Together at Last: Eat, Drink, and be Married!
Around the time everyone finished the delicious dinner (I talked about what we served here), it was time for speeches and toasts!
My maid of honor started the whole thing off and kept it lighthearted and sentimental. Next up was my husband's friend from waaaay back in the day. They've known each other since elementary school, so he could've shared a very large number of stories. This particular friend is…um…unpredictable with his words. We had now idea what would come out of his mouth, so we were literally squeezing our hands together, bracing ourselves for what we'd hear. Luckily, he didn't say anything embarrassing, but kept it short and sweet—whew! Last up was another friend of my husband's from college. He's an all-around fantastic guy, and it was nice to hear him tell the tale of how my husband reacted in our early days of dating.
With champagne in hand, we all toasted to a long and happy life together. (Cue collective, "awwww.")
Finally it was time for cake! Or, should I say cake and cupcakes!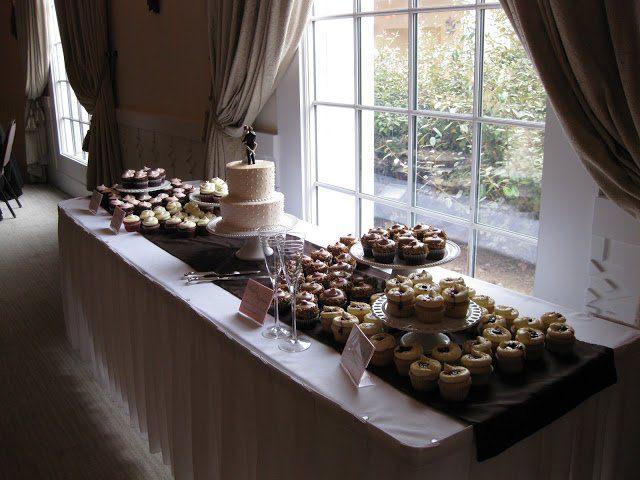 photo from my cousin's camera
I may have jumped on the Cupcake Bandwagon of Twenty Ten, but I didn't care in the slightest. Truth be told, I've wanted cupcakes at my wedding way before the cupcake craze was ever an actual "craze." We taste-tested our way through Albuquerque's finest cupcakeries (totally a word) and came up with a complete winner: Cupcakeology. (edit: I just put the link in and found out they closed on Christmas Eve. I'm incredibly sad now. Sigh…keep reading anyway…)
I still take great pride in serving cupcakes! Several of our guests even came up to us after the wedding and told said that when they heard (and saw) we were having cupcakes, they actually snubbed their noses and frowned at the idea. Then they tasted one and not only did they think it was the best cupcake to ever grace their lips, but they went back for more. We seriously had guests telling us what a great idea and how good those cupcakes were months after the wedding.
Now that I'm off my cupcake pedestal, I'll get down to the nitty-gritty. Along with having regular-sized cupcakes, I also wanted to have my cake and eat it, too. (Hey! That's the first time that cliche actually works with no second meaning behind it!) The owner of Cupcakeology also makes (sigh. made) "regular" cakes, so we had one to cut into!
As for the cupcake flavors, we picked:
Cheesecake
(Vanilla cake topped with cheesecake frosting, seasonal berries, and graham cracker crumbs) *This is my personal favorite.
(Chocolate cake topped with Nutella buttercream and toasted hazelnuts)
(picture from my cousin's camera)
(Chocolate cake topped with mint buttercream)
Cutting into the cake was pretty fun. My grandma threatened us to not "smash" the cake at each other, because "it's so tacky." Well, while I trusted my new husband, there was a part of me that wasn't entirely certain he wouldn't try some sort of funny business by smearing cake all over my face.
I guess my grandma's warning was enough for both of us, because the only frosting I encountered was on my lips!
This next part cracks me up. I didn't know about it until we got our photos back, but I LOVE it! I love my friends and these next pictures confirm why they're my favorite…
Yeah, they had their own cake smashing adventure! Love it!
Wow. I only have two more posts after this! I don't know who will be happier when I wrap this sucker up, me or you 🙂
Next up…We Dance the Night Away