Last week I had a huge whim to decorate my house for Valentine's Day. Despite what you may think, I'm not very crafty. I've done a few projects here and there, I have tons of ideas, and my Pinterest craft board is busting at its seems, but I've just never been a crafty person.
Until now. I picked up some construction paper and came home, determined to do something with it. Here's where things get a little…ghetto. I needed a stapler and some string, but couldn't find either around the house, so I used scissors, tape and dental floss.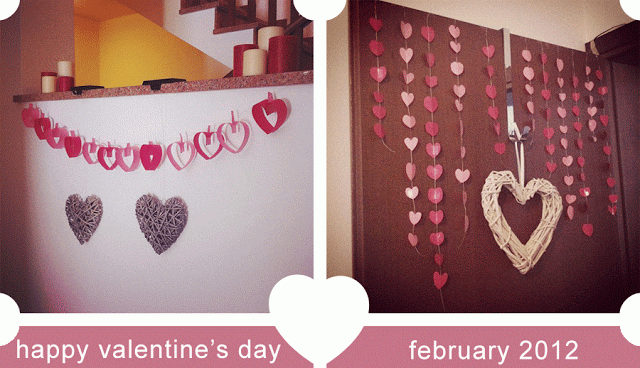 It turns out that my ghetto decorations actually look pretty good and were pretty easy to make, despite being somewhat tedious. I'm pretty proud of myself (if you can't tell from the shameless tooting of my own horn…TOOT!).
I'm glad I had the energy to muster up some fun decor last week, because for the past couple days I've been a hot, sneezy, runny-nose, phlegmy mess. I caught a cold that's been running around, and I really hope it leaves my body ASAP.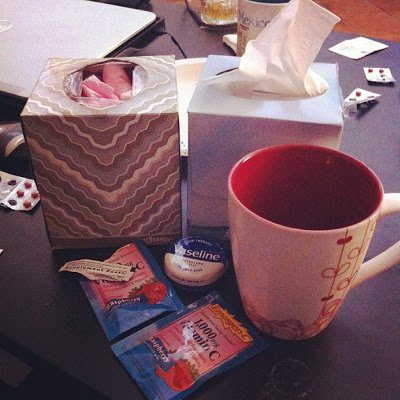 But since it's Valentine's Day, I really wanted to do something special for my husband. You see, three years ago today he asked me to be his wife, so making him a delicious lemon blueberry cake would be the least I could do to say thanks. Unfortunately, I haven't been out of the house to get the ingredients, so I made him sugar cookies instead. They were delicious and I made him take them all to work so I wouldn't nibble on them all day.
We decided to have a special Valentine's Day breakfast since he's working late tonight. I was going to make these heart-shaped roasted potatoes, but my sniffling and watery eyes didn't want to bother with all the work. Instead, we made heart-shaped biscuits, regular roasted potatoes, and—the best part—steak and eggs!
It's hard to see in the picture, but the piece of steak my husband cut for me is kind of shaped like a heart. Awwww!
Okay, that's all I can manage for today. It's about time for some more medicine, a refill of tea, and possibly a nap! (oh. don't forget to sign up for the postcard swap!)
Happy Valentine's Day!