This week was busy to say the least. Spring is definitely in the air here in Italy and I've been out enjoying the beautiful days. Here's a quick look at what I've been up to this week:
(okay, I know this one is cheating since it was technically eight days ago, but whatever.) I made Irish Bomb Cupcakes for St. Patrick's Day and they were seriously da bomb. (Side note: I feel ridiculous for saying "da bomb," but I couldn't help it; Irish Car Bomb = da bomb…get it?) Anyway. I took them, along with a kid-friendly version with no booze, to a party last week and they were a hit.
Monday was a great mail day, because my TOMS finally came in! Unfortunately, I don't think they fit. I know they're supposed to be snug and then your feet will stretch them out, but it's just not happening. They're so snug my feet hurt. I actually ordered two sizes from Nordstrom and they cancelled the pair I'm pretty sure would've fit. I'm annoyed, because I really wanted to start wearing them! I also got a lovely postcard from Ms. Kira over at Her New Leaf and an order I purchased from The Young Retiree. Hooray for mail!
Speaking of mail…
Have you linked up your postcard yet from the swap? Hop to it! I'm still waiting for mine to arrive, so my post has yet to appear. Hopefully I'll get it soon 🙂
This week I started going to Italian classes again! I may only be here for another year, but I still determined to learn the language.
On Wednesday I went back to Nove with a few spouses from the squadron. Check out this interesting mode of transportation that trotted right in front of us. Oh, Italy, you never cease to make me laugh.
But back to Nove; let me just say that it's been awhile since I've shopped with other women and I may have been heavily peer pressured to buy something.
I was smitten with that huge dish—I think it looks like a cake stand and a pasta bowl merged together—and I eventually bought it. It's actually too big to fit in the little sink I have in the kitchen, so I'm afraid to serve something out of it…or rather, I'm afraid to clean it after I put stuff in it. In the meantime I think I'll just use it as decor. Oh! See that little chicken pitcher there? Yeah…I'm putting together a little giveaway and that'll be part of it. Get excited!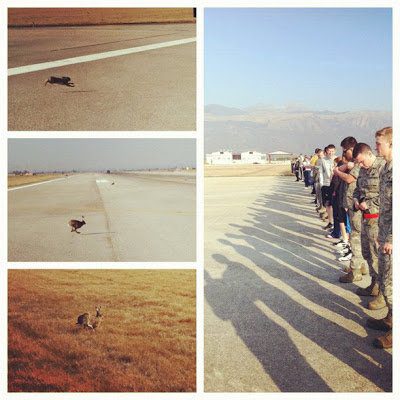 On Friday I went to work with my husband. We took part in an event called "Rabbit Roundup." Rabbits are a problem on base, because they can get sucked up into the jets and since that is NOT a good thing, they try to get rid of them once or twice a year. (Get rid of them by releasing them into the wild—don't worry, I asked.)
Basically, everyone there formed a straight line across the entire runway (and the grassy parts on the side) and walked slowly to the other end of the runway. The point was to make so much noise that we'd scare the rabbits out of their holes and heard them towards a net that would catch them. These weren't you're average run-of-the-mill-cute bunnies. These rabbits were fierce and ridiculously fast. We ended up getting catching around 30 rabbits, so they called the event a success.
After rounding up rabbits we went to a "Family Sports Day" with my husband's squadron. Luckily, it was a beautiful day, and we really enjoyed spending it outside with friends. There was music, tons of people, lots of food, and several different sports to play.
Along with playing kickball, my husband also sumo-wrestled against a friend. Talk about putting on a good show! There's something incredibly funny about seeing your strong husband not able to get up after falling down in that suit. Good times. Later in the day we teamed up for an egg toss. We unfortunately lost, but at least I didn't get any egg on me—my husband can't say the same. Haha.
A few days ago I also posted a new recipe over at The Tale of Two Kitchens. In fact, I need to go make more of these right now to get us through the next week!
One night this weekend we couldn't figure out what movie to watch so we finally decided on "10 Things I Hate About You." I forgot how much I love this movie! I haven't seen it in years, but I was still reciting almost the whole thing word for word.
Seriously, how much do you miss Heath Ledger? Also, how many of you wanted this exact scene to happen to you when you were in high school? Swoon.
So there you have it, snapshots from this past week; I told you we were busy!