Five months ago I announced that my brother and sister-in-law were beginning the process of adopting from Ethiopia. Well, long story short: A LOT has changed since then.
I know from your emails, messages, tweets, comments, donations, and even some of your blogs, you immediately felt compassion for Chris and Amanda and wanted to help them bring home a baby. I was so humbled by your sweet words and encouragement and I know their hearts overflowed with gratefulness. I should have updated you earlier, but things in the past two months moved VERY quickly.
If you haven't kept up with their blog, here's the long story short: a pregnant woman in the same city as Chris and Amanda heard about their longing for a child and asked if they would consider adopting her baby when it was born. They were hesitant at first, since all of their energy and focus was on an overseas adoption, and even tried to back away from the offer, but they were drawn to the baby and decided to put the Ethiopian adoption on hold.
This all happened a couple months ago. Their focus immediately shifted and they started preparing for a baby sooner rather than later.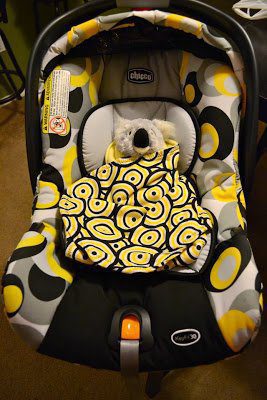 The only way to prep for a baby without an actual baby is with a stuffed animal, of course! Also, Amanda made that car seat swaddler! Cute, right? (I also stole this picture from her FB page…)
The birth mom was due June 23, and on June 1 they found out baby T was going to be a boy! Two days later, before I even had time to hit the market for some cute baby boy outfits, I got a phone call from my brother that the birth mom's water broke and they were on the way to the hospital!
Baby boy couldn't wait to make his appearance, because just a few hours later, on June 3 at 1:54 am, little Isaiah Jude Torres entered the world weighing 7lbs, 3oz!!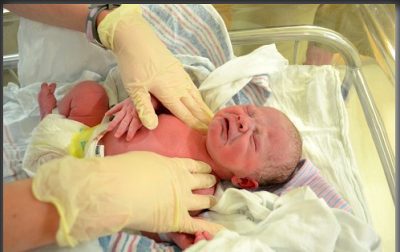 I'm so in love with this little boy and I haven't even met him yet! We've done the video chat a few times, but I am planning a trip home at the end of July so I can shower him with smooches, snuggles, and soak up all of his adorable little baby scent while he's still teeny tiny.
To be honest, this post is twofold. Despite having an adoption in America (as opposed to overseas), there are still some outrageous costs involved. Since January—thanks to your help—they've raised more than $8,000 to pay for fees, but they still need more. I'm beyond shocked at the cost of adoption, but that's a different post for another day. Here's what Chris and Amanda have to say:
We thank you all so much for your prayers and support with Isaiah's arrival. We do however have an immediate URGENT need!
We have paid approximately $8,000.00 of our own funds into this
process, however we are approximately $8,000.00 short, and due to some
unforeseen costs, we need the money by the end of this week. Before the
birth parents can relinquish their rights, we have to pay our agency and
attorneys. We know that $8,000.00 is a very steep number, however God
can do all things, so we are confident that he will provide. If you can
help us out, we would be incredibly thankful, but if you cannot, that is
okay. Either way, please by praying for us. (from The Torres 2 Plus 1)
If you're so inclined, this little button above will take you to their Paypal account. If you click this (<–click there) it'll take you to their site where you can find other ways to help!
Here's a quick video my brother put together of Isaiah's birth day:
Please feel free to share this post, their site, and FB page with anyone you know. I'm anxious for Chris and Amanda to legally be
Isaiah's parents, so I can only imagine their anticipation!