Can I just say how much I loved reading all of your comments on my last post? I'm so glad you all liked reading about how we found out!
So for the past two and a half years I've written a Five for Friday post every Friday (sometimes Saturday or Sunday). I know my husband loves them and I really like writing them. Even during the toughest weeks—and even when he's not physically here with me—it makes me dig deep into why I love him, things I'm thankful for, and little moments we've shared together throughout the week.
However, I can't lie when I say it's VERY difficult to come up with new things while he's gone for such a long time. We have a good five months left before he's back in my arms, so I've decided to give myself a break and not stress about coming up with five different things each week. Instead, each Friday I'm going to (try to) start posting a weekly pregnancy update.
Which leads me to my next conundrum. I've never been tiny. I've never been called skinny, the last time my stomach was flat was more than a decade ago, and losing weight has always been an issue for me. While I had great plans during this deployment to get fit, lose weight, and all that jazz, life clearly had other plans. I typically avoid photos of myself that include anything other than just my face, but I also realllllly want to post pictures of the bump—not just for you to see, but because this is a huge moment in my life and I want to be able to look back on it later. I basically needed to just get over it and start somewhere? I say all this just to let you know where I'm coming from…I swear I'm not fishing for compliments!
Anyway, that's all to say that taking photos of myself, three months pregnant is pretty much the most awkward thing I've done in a very, very long time. Also, the photo below was taken around 9 pm, after lots of food intake today (did I mention I'm feeling about 80% better?!!!!), and in the bathroom of my hotel room. Classy. Looks like I need to work on self-portrait techniques for the future! Did I put a big enough disclaimer on how weird this whole thing is to me?! Anyway, here ya go…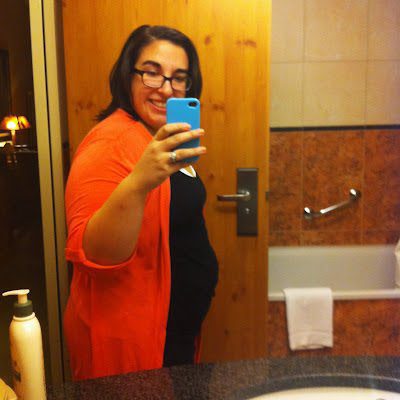 Next time I won't wear black on black. I'll also use a real camera…maybe.
How far along: 13 weeks today!
How big is the baby: the size of a peach, medium-sized shrimp, or a kiwi, depending on what site you use!
Total weight gain: -1 (negative for now!)
Sleep: ugh. Let's not even go there—it's like I take naps at night now. I'll go to sleep, rest for an hour, get up to pee, go back to bed, sleep for an hour, get up to pee and then I'm usually awake for a couple hours until I'm so exhausted I fall back asleep. I usually take about two naps during the day. I miss sleep.
Best moment of the week: Not feeling as nauseous anymore! I still feel sick occasionally, but it's not all the time now. Also, last week the baby was the size of a plum, so my husband nicknamed it Pickles McPlumski and I was just tickled by how freaking funny and cute that was! I seriously love how adorable my husband is.
Food Cravings: Pinterest is driving me CRAZY! Most of my cravings can't/haven't been acted upon. I realllly wanted some Korean short-ribs and some awesome looking cheesy potatoes, but I needed the crockpot to make them and I didn't have the ingredients—plus I don't think I could wait that long. I did get the movie nachos I was craving and they were awesome!
Food aversions: Random scents of foods here and there will turn me off immediately. Fish sounds disgusting and I'm still a little iffy about onions. Rotisserie chicken is possibly the worst smell out there. Peanut butter and bananas are giving me heartburn 🙁
Movement: Sometimes I think I maybe feel the flutters or bubbles, but I have no idea if it's Pickles or just gas.
Gender: Won't find out for a several more weeks…
What I'm looking forward to: My next appointment. I just want to see it again and make sure all is okay.
What I really miss: Going into the hot tub 🙁 I'm at a hotel right now and all I want to do is go relax in the awesome hot tub downstairs. I also miss alcohol. I'm not a big drinker, but all the summery drinks and ice-cold beers just look so freaking appetizing right now! I actually asked to smell a guy's bloody Mary the other day—who does that?!
Most worried about: everything! Now that my symptoms are easing up it makes me more anxious. I'm trying to remain calm, though.
Most excited about: officially being in the second trimester and my next appointment at the end of September.