This week went by really fast for me, which is always good when you're trying to get through a deployment! I feel like this time in the pregnancy is a lot of hurry up and wait. I got this far, which is a blessing on its own, but I have to wait to have my next appointment, wait to find out the gender, wait to feel it move, wait, wait, wait. Luckily, dealing with the Air Force has helped me be (kinda) patient when it comes to waiting.
I had a really good week, despite my hormones being completely out of control—I ran out of the shopette in tears one day, because the lady wouldn't give me a stamp on my rewards card for returning my movie, and then I sat in my car and did the ugly cry for a good five minutes before I could finally see straight again. I also get a little queasy when I brush my teeth (so strange), but other than that things are golden!
Way before I was pregnant I fell in love with Hanna Mac's maternity book, and I was thrilled when I saw she now sells the template! I bought the PSD version so I could play around with it and I think I like the results! I'd love to put a book together at the end of my pregnancy, so I may make last week's Bumpdate to match this style. What do you think?!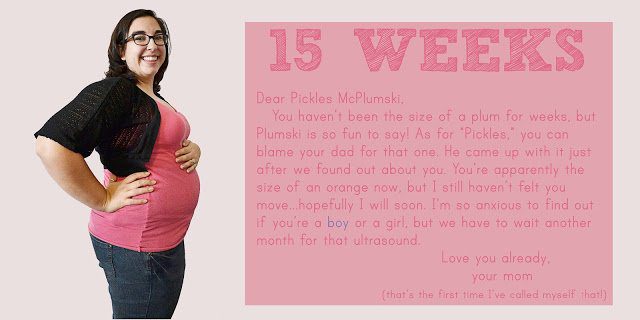 Click image to enlarge.
How far along: 15 weeks today!
Fun facts: Baby can sense light. Apparently if I put a flashlight to my belly it'll move away from the beam. I can't decide if that sounds mean or like something I want to try.
How big is the baby: One site says the size of an orange and another says the size of an apple—either way, it's getting big! It also weighs about 2.5 ounces.
Total weight gain: +1 on my scale this morning. I'm nervous, because the next time I go to the doctor will be three days after we get back from our cruise. YIKES!
Sleep: FINALLY sleeping better! I slept (almost) all through the night every night this week. Such a nice feeling.
Best moment of the week: Choosing yogurt from my fridge instead of getting gelato. I'm trying hard not to "eat for two" and to pick healthier choices when I have cravings. That was really my only healthy swap this week, but it's better than nothing!

Food Cravings: Milk. I've always loved milk, but I'm drinking it A LOT more often—had to go to the store three times to get more! I think a lot has to do with the fact that I'm eating cereal for breakfast these days. I've also been on a pea and corn kick of all things. I like them mixed together with some salt and pepper. Yum! (I know, totally weird.)
Food aversions: Rotisserie
chicken still stinks, but other than that I can't think of anything, which is pretty exciting! I haven't tried eating raw onions yet.
Movement: I lie awake at night when it's completely silent and hope to feel the baby move. Sometimes I think I feel something, but it's only for a split second. I'm so anxious to feel Pickles moving around!
Gender: Won't find out for a several more weeks…Apparently here it's between 21 and 24 weeks?
What I'm looking forward to: My parents arrive tomorrow, and I can't wait to see them!!!
What I really miss: COLD deli meat. I've heated it up and then put it back in the fridge, but it just doesn't taste the same.
Most worried about: my list is too long, but I'm trying not to let them bother me anymore.
Most excited about: Finally feeling good again and relaxing/traveling with my parents for the next several weeks!