My original plan was to post Bumpdates on Fridays, but life keeps getting in the way. This week my excuse was that I went to a costume party on Friday night and was planning on getting a belly shot that night. Then, I had a bit of a distraction from a certain Mr. Grey and Ms. Steele. I read the first two Fifty Shades books over the course of two days and I'm about to start the third. Long story short, I'll post them when I can!
So as I said above, I went to a costume party this weekend! Like the true procrastinator that I am, I had no idea what to "be" or dress up as. With limited resources out here, old costumes that don't fit anymore, and no desire to actually spend money, I asked for your ideas on my Facebook page. You guys are so creative!! I really wanted to make myself into a Prego spaghetti sauce jar, but just couldn't find enough stuff here to make it work. So instead I tweaked Kira's idea and made a pumpkin face out of duct tape!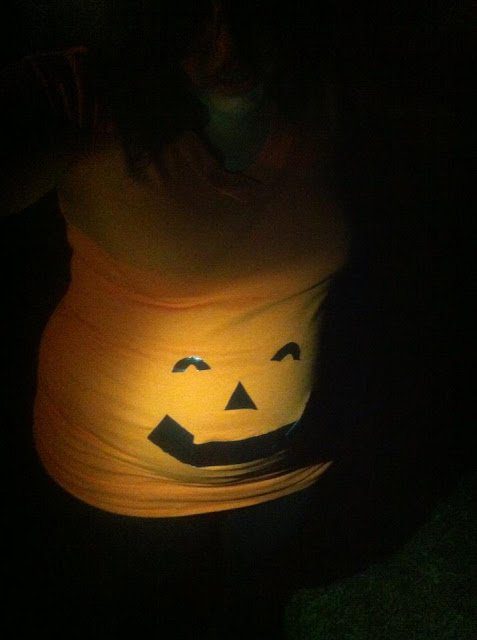 Having fun with different lighting! Say high to Pickles the Pumpkin!
Not too shabby if I do say so myself! I have no idea if I'll dress up later in the month, so I figured I'd just go ahead and go with the pumpkin picture for this week's Bumpdate. It's October, so I think it's safe. I wish I had better Photoshop skills…I think it look kinda silly with the cut-out pics, but oh well.
click to enlarge
How far along: 19 weeks!
Fun facts: If the baby's going to have hair, this is when it starts "sprouting." (Additional fun fact: I was bald until I was about two years old. Here's hoping my kid has hair!) Its sensory system is developing so it can smell, taste, hear, see, and touch.
How big is the baby: Pickles is around 8.5 ounces and measures 6 inches! One site says its the size of a large heirloom tomato and the other says a mango. I'm going with a mango.
Sleep: I'm sleeping fine, but I keep switching from my right to left side about 55 times a night.
Best moment of the week: FEELING PICKLES KICK ME! (see more below)
Food Cravings: Eh, nothing stands out. I'm trying to eat more protein, just because I know the baby needs it.
Food aversions: That darn rotisserie chicken smelled gross again today at the commissary. Maybe it never smelled good to begin with?
Movement: YES! So every night when I get to bed I lie down and place my hands on my belly to see if I can feel it move. Earlier in the week I was definitely able to distinguish the baby from indigestion, which was awesome to finally tell the difference. So there I was on Friday just relaxing and almost falling asleep when all of a sudden I felt this "blump" feeling and along with it I realized that my hand moved at the same time! It. Was. SO. COOL! It only happened that one time (that I know of and felt), but I'm so excited to feel it again.
Gender: The appointment is less than TWO weeks away—October 18!
What I really miss: I missed alcohol on Friday night: peach prosecco (totally had a delicious sip), jungle juice, jello shots, and alcohol-soaked gummy bears.
Most worried about: I felt really good this past week, so I'm getting nervous about all the weeks to come.
Most I'm looking forward to: Feeling Pickles move again and the anatomy scan!!
Anything else? I don't mean this to sound cocky, but you know that "glow" people talk about? I don't necessarily feel like I'm glowing (can you actually feel that?), but when I look at pictures from Friday night I just look different. I look happy and healthy and that makes me feel really good to see. (I'm sure it also helps that I made an effort that night and not only did I put on makeup, but I wore contacts and I curled my hair! A little TLC can go a long way in my case!)