Gender Reveal: The Care Package
My husband and I had a decision to make regarding our pregnancy: to find out the gender of our baby or wait and let it be a surprise. He was all for the surprise, but I was hesitant. Here's the thing: life in the military is full of uncertainty and this year/next year are no different. My husband won't be home until one month before the baby is born and there is/was a good chance we're still leaving Italy early…we just don't know how early (could be as early as 8 weeks after Pickles is born). Not to mention, I don't live near a Babies"R"Us, a Target, or a 24-hour Walmart. I can't control any of those things, but I could control this (for the most part). I wanted to be able to shop and look at things online with a gender in mind. So we agreed to find out.
The next part, deciding how we'd find out, was a little trickier. Simply put, it sucks that he's not here. My husband is so excited about this baby and my pregnancy that I really wanted him to be part of this particular milestone. I scoured blog after blog and read through posts on different forums looking for ways other military couples did it, but I didn't like any of them. I'd either have to find out before him or I'd have to wait an extra 2 weeks to find out (some suggested I mail an envelope with the results to him after so we could find out together that way). Neither of those sounded fun and I really wanted to make this moment special for both of us.
Not content with my findings, I put my thinking cap on and came up with the idea we went with. Here's how it happened:
Three weeks before my appointment I went shopping at the BX/Commissary for pink and blue things. I wanted to mostly get "food" so he could enjoy it or share it with others. (If you're doing this and are in America I can almost guarantee that your box can be at least twice as big as mine since there's more variety of things to buy there.) I also wanted him to have a few tangible things to keep and look at while he was there, so I got two onsies for each gender (luckily they had some specific for dads!) and some shoes. This family loves Chucks, so I'm thrilled they had some pink ones in stock—no luck for blue Chucks, but that's okay.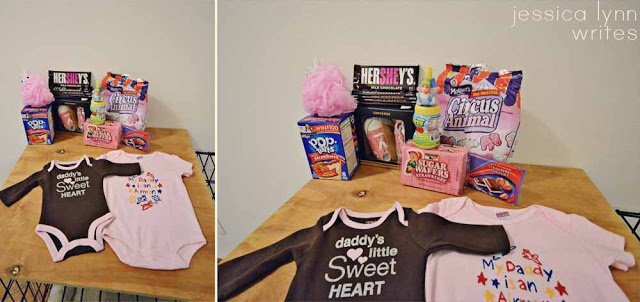 The plan is for him to send back or just bring back the blue outfits with him and I'll hopefully return it (I kept the receipt).
I also really wanted to make him two batches of these cookies. I actually bought everything I needed and started the process, but then I didn't have room in the boxes, so I repurposed the cake and took it to a party. If I had more time (Procrastination is my middle name) I would have figured out a way to make the cookies happen. I love that it's a different twist on the trendy cake pops or gender reveal cake, and that they would work very well for a care package. Maybe next time 🙂
As for decorating the boxes, I went all out! I knew that if all went according to plan, we'd find out the gender together when he opened the boxes, so I needed something that would catch my attention immediately over the video. Luckily, they make tons of funky and bright duct tape these days! I picked some up when I went back to America

At the time I actually waffled on getting the pink (why would I ever need to use hot pink tape?!) and I'm SO glad I did! I taped each flap and then used pink and blue tissue paper throughout the box. For a little more fun, I got some ribbon and made them curly and put them throughout the box as well.

I used two medium-sized flat rate boxes. I needed two boxes of the same size so that they would be identical, and then I put them into one larger box. I also bought a variety of colored Sharpies, because I really wanted to write on the flaps and I needed a pink marker! I'll have fun using those in the future.
The next step was a last minute decision and I'm glad I did it. I was afraid my husband would open the large box and he'd maybe see pink or blue from the edges of the box. So, just for good measure, I took gender-neutral tissue paper and covered each box. Then, I wrote which box was which on the tissue paper. (I also made a note of each box on my phone, because I knew I'd need to remember for my appointment. Box One = Girl and Box Two = Boy)
Then I shipped the giant box out to him. It arrived a few days before my appointment. Phew!
On the day of the appointment I brought a friend with me. Having her there was nice and helped calm me down (I was a little nervous), plus she turned out to be my Plan B. The original plan was to have the technician email my husband with the following information based on what he saw (I wrote this out for him so he wouldn't be able to mess it up!):
Email: pickles@email.com (not our email…)
Subject: Baby Pickles: Open this email when you're talking to your wife
Message:
(please only write the box number—NOT boy or girl!)
If it's a girl: BOX ONE
If it's a boy: BOX TWO

Thank you so much!
During the appointment I told the technician that my husband was deployed and I wanted to know the gender, but I didn't want to know at the same time. He knew what I meant and said he'd let me know when to look away from the screen, and then he'd print out the gender and give it to my friend.
(Side note: I was too flustered to actually ask him to do the email thing, so I asked my friend if she would do it and she happily obliged!)
When it was time for the gender he told me to look away, but then said its legs were closed. Noooo! All of the hard work was almost for nothing! I started poking and pushing on my tummy to make it move and told Pickles to stop being a prude. It must have worked, because he said he saw what he needed to see and was 95% sure he's right.
Then he started typing on the picture. My friend said it looked something like this so that I wouldn't know what keys he was typing: GIRL!!AL;KJDF9098QR and then he deleted the extra part. What a clever tech 🙂
We left the appointment and my friend (who is very good at keeping secrets!!) put the photo in an envelope and I took it for safe keeping. (I swear I didn't peek!) She immediately emailed my husband using the paper I gave her, and I went to do other things to pass the time.
My appointment was at 9 am and my husband woke up early to get online and video chat with me around 1 pm, and that's when the video took place!
I'm SO happy it all worked out. I know the whole thing sounds complicated—at least I think it does when I explain it to people—but it was actually pretty simple. It just took a lot of pieces all working together. I wanted to share this in case anyone else out there is going through or will go through something similar. Like I said above, it's hard to not have your partner with you for all of this, but this made it a teensy bit less difficult.
In case you missed it or want to watch it again, here's the link for the actual reveal: