Goodness, this has been a busy week! My mom flew in to be with me while I get some more answers as to what's going on (or not going on) with little Pickles. Can I just tell you about a parent's unconditional love? It's amazing and I'm seriously blessed with the best parents a girl could ever have. I only hope we can be as great to our my daughter (who is kicking away as I type this, by the way).
As for what's going on, I still don't really have an update for you. I do plan on writing about it, but not until I have a little more information, which should be coming soon. Thank you for everyone who's emailed to say you understand my relucance to share; I appreciate your respect!
Back to being busy—since my mom is here, I'm enjoying some extra girl time and bonding with my mom by Christmas shopping, baby shopping, and getting in a little more travel time. Not to mention, I think little Pickles and Bella like having the extra noise around the house; I know I love it!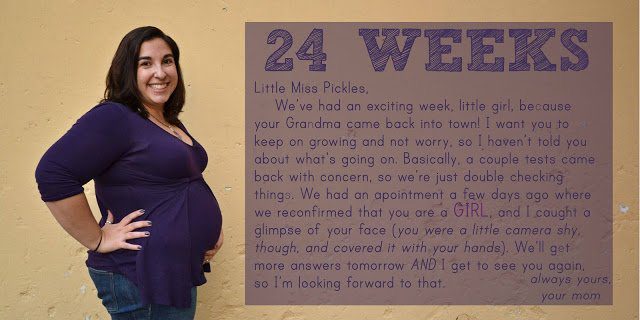 Thanks for taking my picture, mama! Click to enlarge 🙂
How far along: 24 weeks (+ 1 day)
Fun facts: She's starting to get fat under her skin—yay baby fat! Taste buds are continuing to develop and her lungs are forming "branches" of the respiratory "tree" so she can breathe once she's born.
How big is the baby: She weighs just over a pound and is almost a foot long! One site says to think of an ear of corn and another says she's the size of a cantaloupe. Oh! Apparently my uterus is the size of a soccer ball. A SOCCER BALL!
Sleep: Sleep is okay? I'm sleeping very soundly, but at the same time I toss and turn a lot and end up in the no-no position on my back. Oh well. I'm getting around 7-8 hours, despite still waking up at 4 am some mornings, with a nap in the middle of the day sometimes.
Best moment of the week:
I got to see her on an ultrasound again AND we reconfirmed that she does, in fact, have lady parts!!
Food Cravings: meat. I've been getting a little more protein.
Movement:
YES! She moves when I drive, moves when I walk, jumps up and down on my bladder A LOT, and sometimes seems to flip around. I love it all (except when she thinks my bladder is a trampoline…that's not all that fun).
Gender: GIRL! I bought her an adorable pink "marshmallow" jacket for next winter for only €11! It was such a steal! I also got a sweet Nove ceramic for her room.

What I really miss: Nothing much this week.
Most worried about: Talking to the doctor again tomorrow…should all be fine, that's the only answer to this question that I have!
I'm looking forward to: Seeing her again tomorrow 🙂
Anything else? I figured out the swelling situation from last week and it's kinda silly—I'm getting too hot at night. I made my room cooler and just like that I woke up feeling more "normal."