Erin Condren: Then and Now
I've been in the mood to write about something, but the only things I can think about are my pregnancy, care packages, and a few travel posts thrown in there for good measure. (I have more stuff to chat about regarding all of those topics coming up!) I could've chatted about any of those things, but I just haven't been feeling it lately.
So as I was standing in line on base today to pick up a package, and an idea kinda fell into my lap. Don't you love it when that happens?! My new Erin Condren planner came in today—just in the nick of time!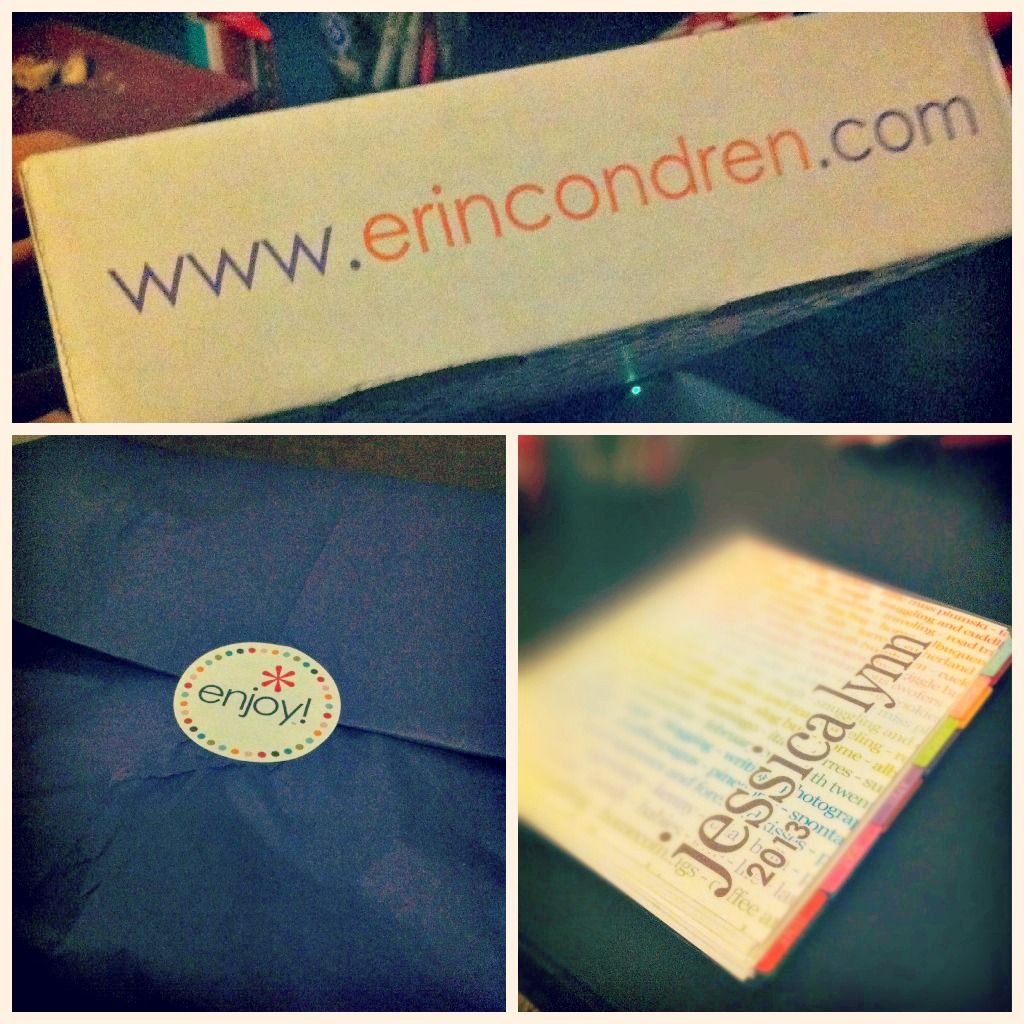 I was giddy all the way home, eager to rip open the package and check out my new present. I decided to stick with the same cover design I had last year. Although after I ordered it I sort of wished I changed it up a little bit. Oh well, there's always next year.
I love several of the new features, but also found myself longing for aspects of the old planner. I'm here to share the differences between the 2012 planner and the 2013 planner with really horrible phone photos. I could've used my fancy schmancy camera, but that would've required me changing out the lens and the battery, and figuring out the settings since we're having another dark and stormy day out here. And frankly, I'm too lazy to bother with any of that right now, so you get dark, grainy pictures instead.
So first up you have the new binding: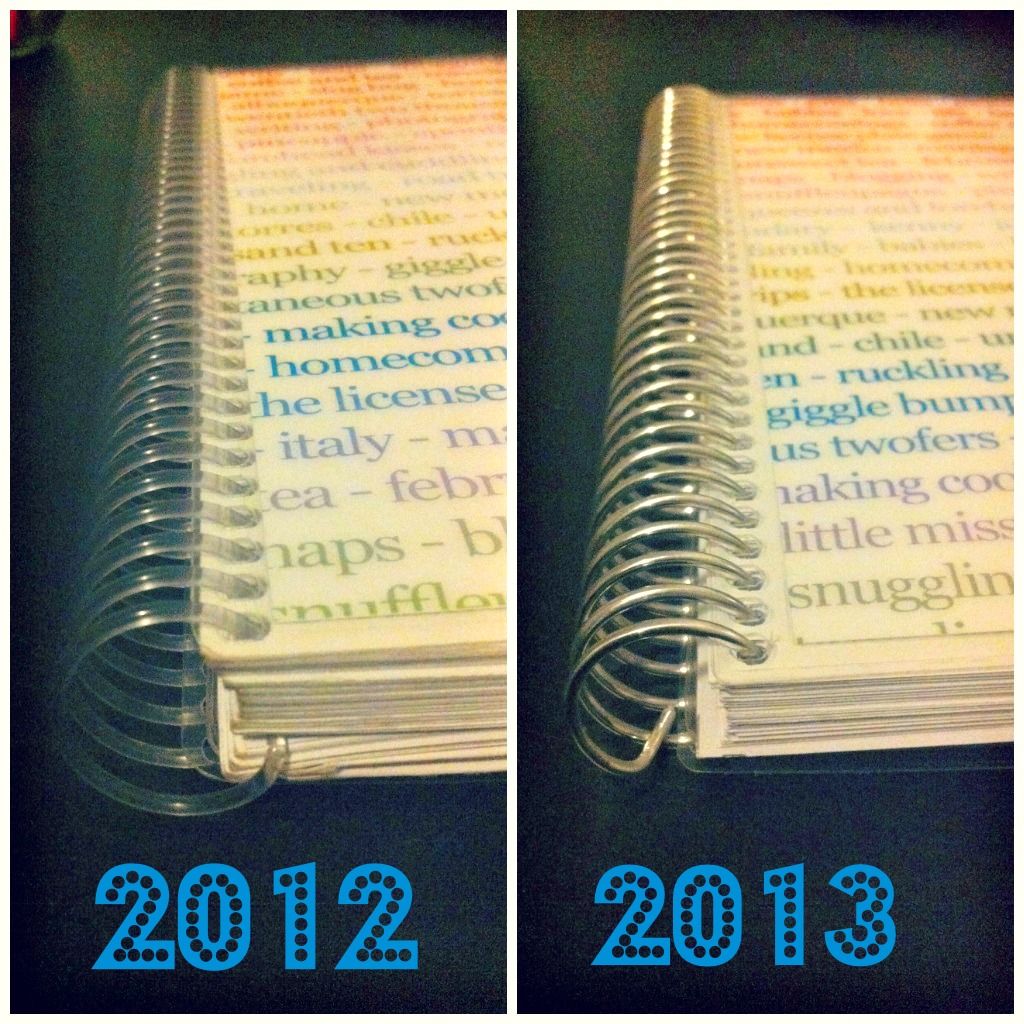 The old planner was made of plastic. This was fine, but I noticed mine started to bend at the top a little bit. The new one is made out of metal, so it looks like it'll be sturdy all year long.
I really like this next feature for the month tabs:
On the left you can see that the month tabs are frayed and coming apart. My 2012 planner started in April (yes, you can buy them—at a cheaper price!—in the middle of the year) so I can only imagine what those tabs would've looked like if I had the planner for the entire year. The new planner's tabs are laminated, and I'm betting it'll hold up pretty well all year. Well done, Erin Condren!
Ah. I have a bit of a gripe with this next new feature…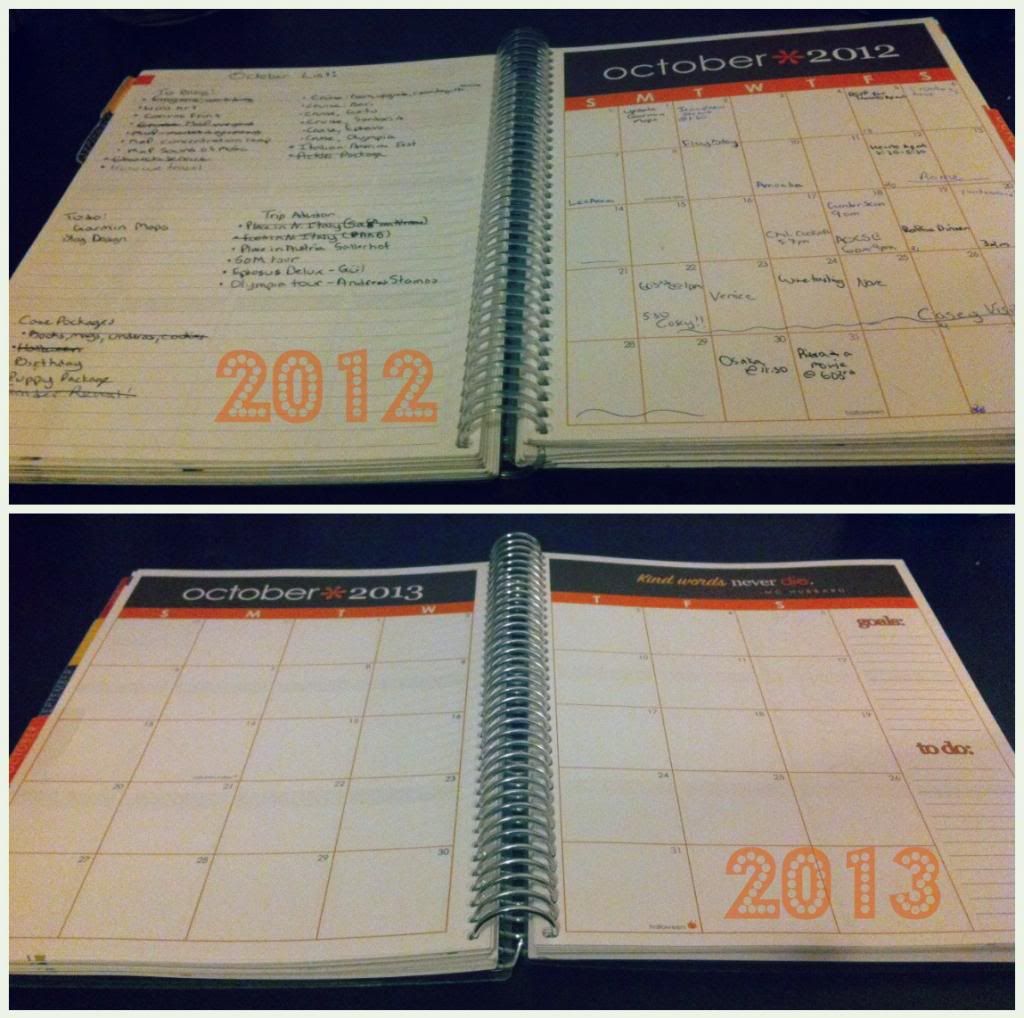 I guess this was more of a win/lose situation. For 2013 they wanted to make the monthly calendar a two-page spread. I get it and do appreciate the extra space. However, in doing so, they got rid of the blank pages at the end of each month:
I used those pages every single month to write out my to-do lists. It helped keep me organized so I could see exactly what projects I had to work on that particular month.
The good thing is that they didn't completely get rid of the blank pages, they just moved them to the very back of the planner: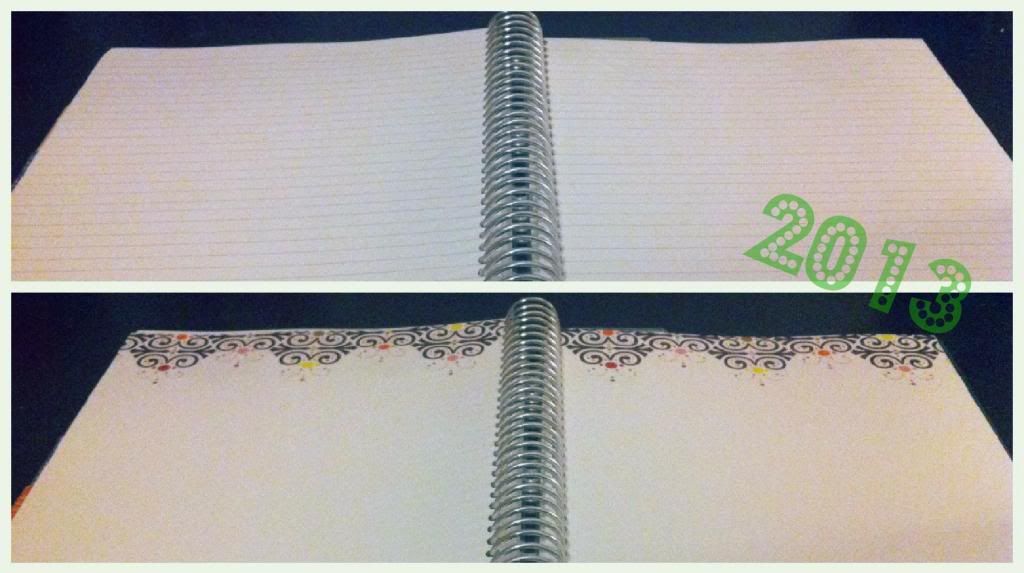 I'll just have to do a lot more flipping back and forth. There's a section for lined pages and then a blank-page section. While I'm happy they didn't nix the pages all together, I'm still not a happy camper with this particular layout. (grumble)
Back again this year are the fun stickers:

I need to utilize these more in 2013. I liked seeing them when I used them; I just always forgot they were there. Whoops! Also back again this year is the birthday and anniversary section at the beginning of the planner. I didn't take a photo of this, but I really enjoyed using it to keep track of birthdays. I still managed to send out cards and presents late, but at least I didn't completely forget the dates all together.
Next up is another slight gripe. In the back of the 2012 planner are two little folders and "zippered" pouch to keep things together.

I love this! There are two pockets, so I could keep all sorts of stuff in there. (yup, those are ultrasound photos on the right. I'm trying to find a photo album for them…) The actual pocket was a little small, but the advantage is that I can see everything I have stored in there.
The 2013 planner nixed one of the pockets and made it much bigger, and I'm not sure why. They replaced one of the pockets with the future calendar (it used to be on the back inside cover).
I like having more places to store things, so I'm a little disappointed we lost out on a folder/pocket section.
So there you have it, my two cents (and then some) about the latest planner. Despite the changes—even those I'm not fond of—I'm still excited to fill out the pages and start using it. I honestly didn't think I would use the planner when I got it last April and gawked at the price, but I use it ALL the time.
Are you on the Erin Condren bandwagon or do you use something different to keep track of your plans? If you have the latest version, what do you think of the changes?
*Because it needs to be said: I was not compensated for this post. I paid (almost) full price for the planner (found a discount code!), and the thoughts above are all my own.*