I kind of didn't do a bumpdate last week…did you notice? I was just feeling way too sick and out of it. I kept saying I'd do it later, but then later never came around. So whenever I get around to making a bumpdate book there will be a little blank page for week 28…whoops. Oh, and get this: I'm still working on kicking this stupid cold or whatever it is that I have. My antibiotics finish today and I'm still congested and still have a horribly painful cough. It's awesome (not) and I'm probably going to the urgent care later today or tomorrow.
As for better news…This weekend my sister-in-law, mother-in-law, and mom threw me little Pickles a baby shower!
I won't go into all the details now, so here's a super quick sneak peek with photos from my phone! My SIL took more pictures on her camera, so when I get those I'll do a more in-depth post.
Can you tell I'm in a very gray and pink mood lately? I'm totally and completely smitten with those colors. They're just so soft and feminine. Love.
Speaking of the shower, my SIL took this for me on Saturday. Thanks, Amanda!!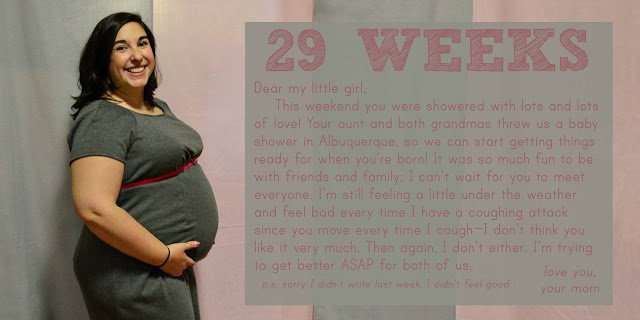 click to enlarge
How far along: 29 weeks (+1 day in the picture; +3 days today)
Fun facts: Her muscles and lungs are continuing to mature and her head is getting bigger to fit her growing brain, which is busy making billions of neurons. Her skeleton is also hardening with 200 milligrams of calcium being deposited every day—good thing I'm drinking lots and lots of milk and yogurt!
How big is the baby: She's about 2 1/2 pounds (like a butternut or acorn squash!) and is a bit more than 15 inches long.
Sleep: It's like, as soon as I lay down to go to sleep she thinks it's time to train for the Olympics. I love her being so active and it's kinda cool because I can feel every twist, turn, nudge, bump, and kick she makes, but at the same time…I want sleep! She also wakes up whenever I roll over to the other side and starts the Olympic training all over again. That, combined with the fact that I can't stop wheezing and coughing, has made for some sleepless nights.
Best moment of the week: The baby shower! Also, my dad got to feel her move yesterday 🙂
Food Cravings: I've been wanting more salads lately. Big, glorious salads with lots and lots of toppings. Also, milkshakes and cupcakes, naturally.
Movement:
All the time. Still love it.
Gender: GIRL!
What I really miss: (Keeping the same answer from two weeks ago.) Feeling
healthy. When you're sick it feels like you'll be sick forever. I
really don't like taking medicine, even though the doctor said what she
gave me is safe, I just don't like it. Pickles is still growing and moving a lot, but I'd
rather not take anything but my prenatals.

Most worried about:
Getting better. It's just annoying that the antibiotic worked, but not completely. I'm not looking forward to taking more medicine. Grrr.
I'm looking forward to: Getting better, obviously (I'm like a freaking broken record these days). Also, it's getting close for my husband coming back home, which I'm just over the moon about!!! I'm starting to want to nest and REALLY need his help! I also can't wait for him to feel her move 🙂

Anything else? The horrible tragedy at Sandy Hook has seriously made me wish I could just keep Pickles safe inside me forever. The world is such a scary place today. I wish more people had love, compassion, and God in their lives.